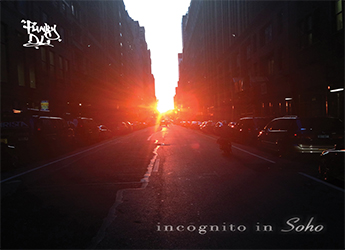 Funky returns today with another instrumental album titled 'Incognito in Soho'.
Following the prestige of Funky DL's 2012 Nights In Nippon Jazzstrumentals Album, The Beat-Making, Rhyme-Slaying Kid from the East returns with another 10 track beats bonanza! 'Incognito In Soho' is Funky DL's brand new instrumental album aimed at encapsulating the moods, colors, character and ambient vibes of late night and city life. With each track crafted as a fresh landscape for this project, this cohesive listening experience of 10 tracks in under 40 minutes showcases Funky DL's unmatched ability to curate beats and samples through layering, comprehensive filtering and effortless whilst meticulous arrangement. Many beat-makers release beat-tapes compiling old and second-rate throw away music from their archives, but DL's approach here is no different from when he is preparing to produce new music for his vocal work; only the best beats will do. This one of the fundamental reasons that Funky DL has been for so long considered a global treasure in Jazz and Hip-Hop production. 'Incognito In Soho' intends to take the listener through various emotive states from the lament of "The Glimmer of Nightfall", to the excitement of "Gallery of Glass", as well as the contrasts in "Turbulent Serenity", each track allows the listener to lose themselves into the exploration of the night; as if they were 'Incognito In Soho'.
Advertisement
Purchase 'Born Alpha' Now!