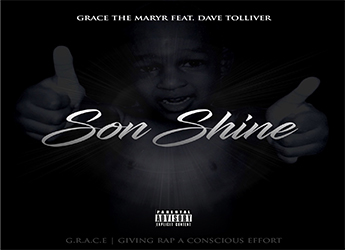 Grace The Martyr debuts on SpitFireHipHop with his new single 'Son Shine'.
Atlanta-based emcee Grace The Martyr shares 'Son Shine,' featuring vocals from Dave Tolliver of Cleveland R&B duo Men At Large. Produced by Danowlin 'WIERDO' Stewart, a Washington DC-based beatsmith whose work has appeared on BET and Fox, 'Son Shine' will appear on Grace's forthcoming album, set to be produced by Stewart and It's Da God, and released through Grace's music and film company Casual Dreamz Ent.
Raised in Florida, Georgia and Los Angeles, Grace's last releases were the Memo EP (iTunes) and visuals for ;Enough'. Grace – whose name is an acronym for Giving Rap A Conscious Effort – is also preparing for the release of his first short film, directed by a team from Tyler Perry's studios. Men At Large are best known for their 1992 single 'Use Me'. Regarding the meaning behind his new single, Grace says "Your potential is a waste if you lack the ambition to see it through. Go get it."
Advertisement
Purchase 'Born Alpha' Now!