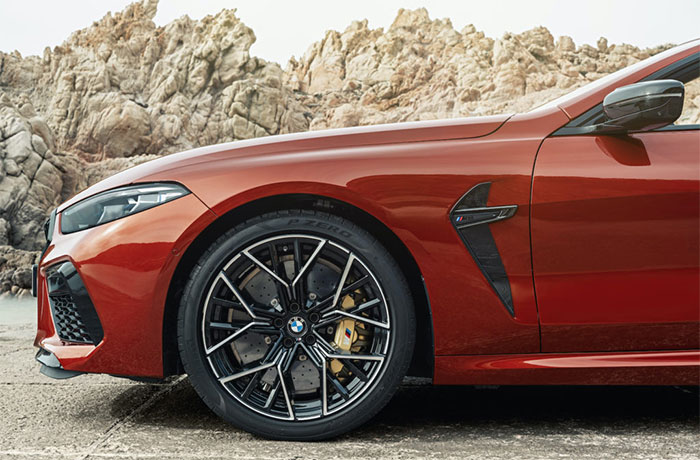 Experienced by Kimatni D Rawlins
Whenever I jump behind the wheel of a BMW M, I'm vicariously thrown into the world of Bill Auberlen, the 20+ year BMW Motorsport racing veteran who also represents as a Brand Ambassador of "The Ultimate Driving Machine." With 400 BMW races under his belt, Auberlen now pilots the No. 25 BMW M8 GTE race car in the GTLM series. Although it's a dream to represent his standing, I was fortunate enough to take out the all-powerful 2020 M8 Convertible and Coupe for road tests recently.
It was special times indeed during BMW Group Test Fest at the BMW Performance Center East in South Carolina this past week.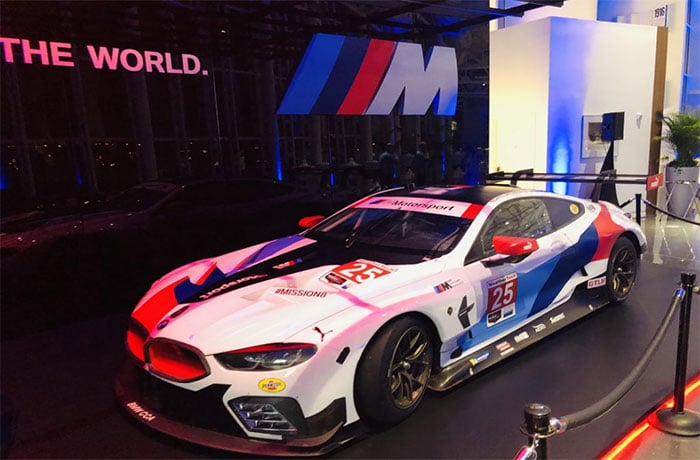 The meteoric rise of the "Most Powerful Letter in the World, M" has led to another quartet of impressive performance vehicles in the BMW fleet of roadrunners. Test Fest was a defining moment that highlighted the detailed engineering of the latest Bimmer M cars. Like an "all you can drive" BMW buffet, there were over 80 BMWs, MINIs, and Rolls-Royce vehicles available to evaluate. The media event left me overwhelmed with exhilaration as I accelerated in BMW after BMW. Nonetheless, the 600-horsepower M8 Coupe and Convertible on location took the throne.
The $142,500 ($157,195 as tested) M8 Convertible I selected in a Motegi Red Metallic was "warping speed" fast, potent, and exhilarating. For the record, the M8 Coupe dashes from 0 to 60 mph in 3.1 seconds while the M8 Convertible does it in 3.2 seconds. Electronically limited top speed for each of the mentioned models is 155 mph but can increase to 189 mph if owners opt for the $2,500 M Driver's Package.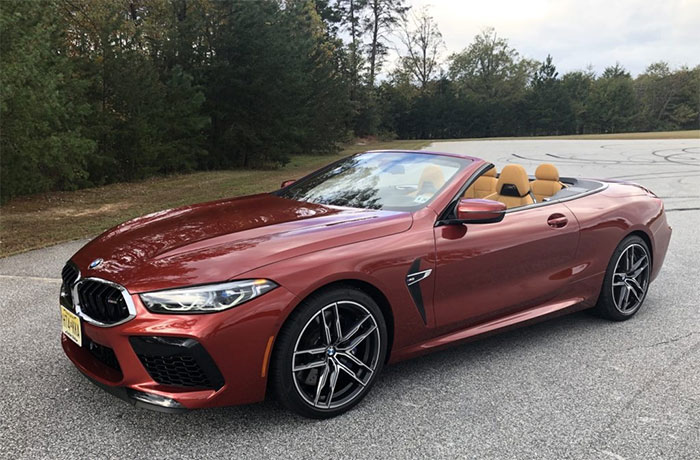 I spent more time in the Convertible than the Coupe simply because I was in the South with a bit better weather than my home state of Maryland. So why not? However, when the soft-top is up, I prefer the Coupe's silhouette. The M8 is attractive to the retina with BMW Laser lights, aerodynamic side-view mirrors, and 20" M Double-spoke bi-color rims outfitted in staggered Pirelli P Zero 285/35 ZR20 rear and 275/35 ZR20 front performance tires. P Zero is the automotive rubber manufacturer's Max Performance Summer tire engineered from motorsport experience dating back 100 years. Quad exhaust tailpipes, blue M compound brakes, carbon fiber trim, M Rear spoiler, and M gills round out the style amenities of the vehicle. Though, the acute design details of the rear bumper –with harsh lines and misplaced indentations — do not flow with the rest of the body. Similar to Japanese sportscar design with sharp edges and cuts, the M8's rear simply has too much going on.
The 2020 BMW M8 Convertible is wicked and sinister with the Adaptive M Suspension that went to work immediately through the high-speed turns of South Carolina's country backroads. And the 600 horses and 553 lb-ft of torque (1,800 – 5,700 rpm) released from the high-revving (7,200 rpm redline) 4.4-liter S63 M TwinPower Turbo V8 left me in a state of nirvana every time I hit it hard. Thunderous pops between gears during acceleration is so tantalizing, and the rumbles are just as provocative when you take your foot off the accelerator to downshift. But don't worry, the super grabby M compound brakes with 6-piston fixed calipers will slow the M8 down with precision. Customizable Red M1 and M2 tabs, 8-speed M STEPTRONIC Sport Automatic Transmission, Launch Control, M shift paddles of course, and rear-biased M xDrive AWD (can be switched to 2-wheel drive) further add to the performance traits of the 2020 BMW M8 Convertible.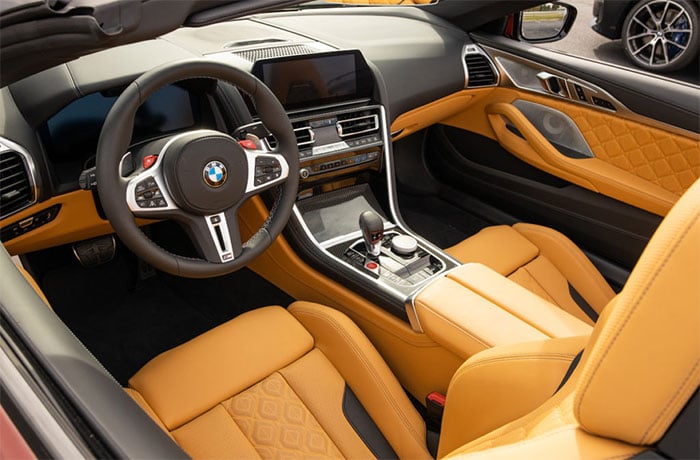 Furthermore, its M1 and M2 buttons, placed on the M leather steering wheel, are programmable through the new single setup button located on the center console. Drivers can customize each setting to their liking, including:
Engine characteristics – Efficient, Sport, and Sport Plus
Suspension characteristics – Comfort, Sport, and Sport Plus
Steering characteristics – Comfort and Sport
Braking characteristics – Comfort and Sport
4WD settings – 4WD, 4WD Sport, and 2WD
The cabin of my M8 Convertible was supreme in Full Leather Merino Midrand Beige with supportive M Sport seats featuring a neck warmer; a redesigned gear shift lever; flushed controls with haptic feedback; Live Cockpit Pro with iDrive's 10.25" touchscreen; and the $3,400 Bowers & Wilkins 16-speaker Diamond Surround Sound System with 1,375 watts. Wireless charging, WiFi hotspot, the Connected Package Pro, Apple CarPlay, and a graphically detailed Head-up Display ascertains that the M8 is just as studious as it is powerful. But don't expect guests in the back seats. Those are for your briefcase only!
More brute force power, stiffer suspension, and enhanced performance tuning are what you receive in this seductive M8 drop-top. All in all, I highly enjoyed the BMW Group Test Fest and could have used a few more days for evaluations, but the premise of the event was defined with the prodigious lineup of M8 performers.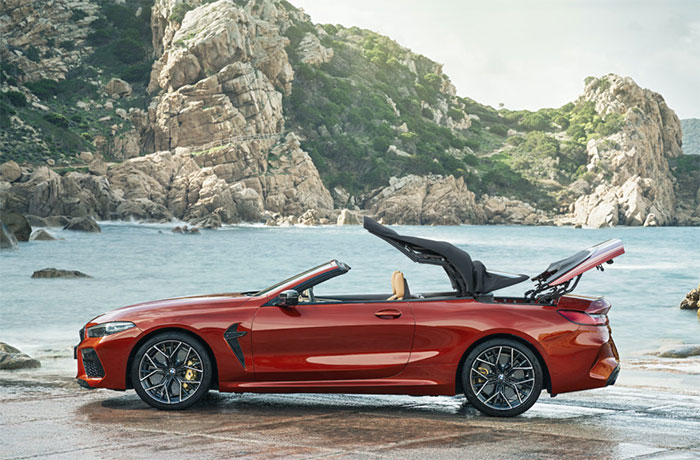 Also featured on the BMW M GmbH roster are the 617-horsepower M8 Competition Coupe ($146,000) and Competition Convertible ($155,500) variants if you want to step up your game. These Bavarian brawlers accelerate from 0 to 60 mph in just 3.0 seconds (Coupe) and 3.1 seconds (Convertible). They kick out an additional 17-horsepower and come with the lighter Carbon Fiber roof (Coupe only), M Sport exhaust system, M Competition Package, and a Track setting for M mode.
Also, at the BMW Performance Center, customers will witness the handling and performance capabilities of their dream rides in various conditions and driving situations. From car control basics to M track drives, BMW enthusiasts have the opportunity to experience it all. With this amount of power, owners should certainly opt for ancillary training so they will know how to handle their M8s properly.
Lastly, based in South Carolina is the BMW Car Club of America Foundation Museum, which features a collection of some of the most well-preserved collectible BMWs. With humble but devoted beginnings, I now see why current M Cars are so profound. Established in 1969 in Boston by a compatible alliance of aficionados, the club has grown to 75,000 members coining the entitlement of "the world's largest owner-supported car club."