by Brad Hill
Month-over-month webcast listening moved upward in September, according to Triton Digital's monthly Webcast Metrics Top 20 Ranker. The upward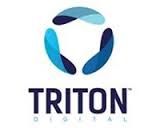 movement was nearly unanimous among the top-20 entities measured by Triton. Year-over-year and year-to-date gains were also apparent in September.
Our analysis of Triton numbers looks at U.S. domestic streaming through the Monday-Sunday lens, 6:00am to midnight, using the key metric of Average Active Sessions (AAS).
The biggest percentage monthly gain was accomplished by ESPN Radio, whose streams spiked upward by 17%. CBS streams surged by 15%, and EMF showed a 13% rise.
Pandora, ever the leader in number of sessions, gained two percent over its August metrics (45,000 average sessions, nominally).
Across the entire top-20 cohort, webcasting rose three percent in September. The group's year-over-year gain was 17%, and there has been an eight percent rise of streaming year-to-date.
While Pandora's historic trendline is meteoric (see chart below), the market-leading Internet radio company does not own the best year-over-year performance in percentage (22%). That leader is Townsquare Media (44%), followed by New York Public Radio (40%) and NPR (31%).
The strongest year-do-date performer in percentage growth has been AccuRadio (23%).
A subset metric — 11 of the top 20 entities — is provided each month by Triton as part of Katz Digital Audio. In September, that group gained three percent over Agust, and is down one percent year-over-year.
Here is RAIN News' historic trendline: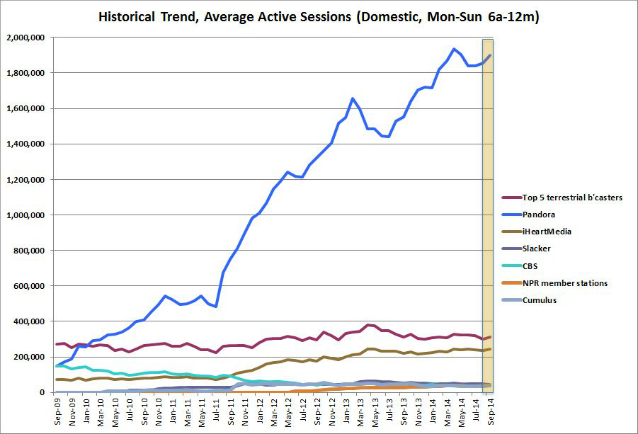 This chart illustrates year-over-year growth of webcasting: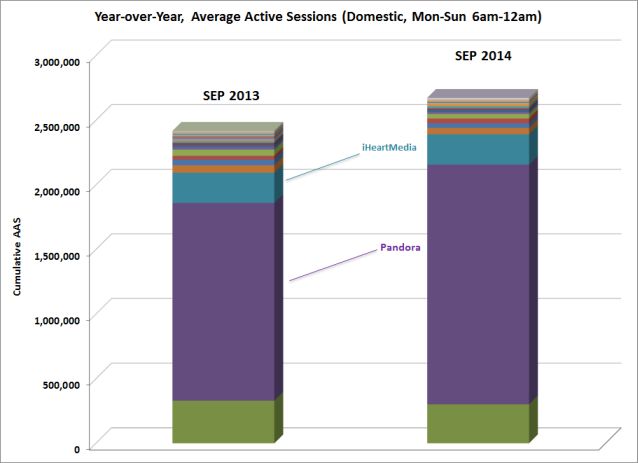 In its commentary of the September report, Triton notes that mobile listening continues to dominate, with iOS and Android streaming accounting for 59% of listening (iSO at 32%; Android at 27%).