Guest Post by Dave Kusek on the Sonicbids Blog
Many artists who sit down to write a single often do so without thinking through the expenses they will encounter before the song can actually be released. By going over the actual costs in advance, artists can help keep them low and avoid complications later on.
Often, when musicians start writing a single, they're not thinking of all the steps and costs it will take to actually release it. But all those costs catch up to you really quickly. There's just so much to take into account – from the rehearsal and recording, to the mastering and distribution. And if you put it off instead of planning everything out from the get go, you could find yourself scrambling for time and money to get your single out on time.
Just a little planning from the start of the process could save you a ton of headaches, so in this article we're going to go through all the costs you can expect when recording and releasing a single.
Rehearsal
If you're lucky enough to have a big enough garage (and understanding neighbors), this won't apply to you, but for everyone else, the first cost you'll hit when releasing a single is rehearsal space. You want to make sure you have the song 100 percent worked out and know all the parts like the back of your hand before you set foot in the studio. This will keep the recording process going smoothly.
Copyright
Next, you should take the time to register your copyright with the federal government. If you're going to be working with other musicians or a producer, they're going to want to know that you own the copyright to your song. In the grand scheme of things, this isn't a big expense at all – about $55 – but it's still something a lot of musicians skip.
Recording studio
Next, you'll hit the studio. Keep in mind that if you're not fortunate enough to have a good local studio, you'll also have to factor in transportation and lodging costs to get there. Studios will usually charge by the hour, or sometimes they'll rent out a couple hour blocks or even a day for a little cheaper. Some studios will give you a lower price for low-traffic hours, like night and early morning.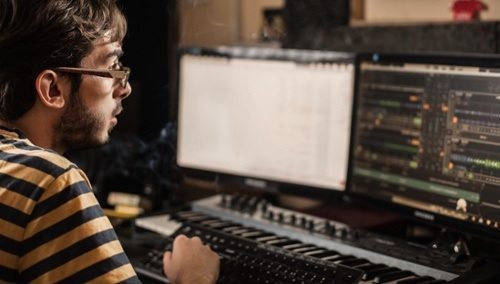 Equipment rental/purchase
Sometimes a new song requires new gear. Maybe you need a new pedal to get that sound you're hearing in your head, or a six-string bass to get a bigger range. You should also make sure you're stocked up on the basics like extra strings, sticks, and picks. The last thing you want to do is spend your expensive studio time out looking for a music store when your strings snap.
Session musicians
Sometimes your creative vision goes beyond the instrumental capabilities of your band, and that's where session musicians come in. These musicians specialize in recording other people's music, and they will usually charge by the hour. If you're on a tight budget, try to pull in local or amateur session musicians or friends who will do the job a little cheaper or in exchange for your services on their album.
Producer
The producer is the creative director of your song. They'll help you with the arrangement and channeling your creative ideas, they'll help the engineers with the overall direction of the sound, and they'll help keep the project on track and on budget. They will often charge by the hour or by the project.
Recording engineer
Recording engineers are in charge of setting and hooking everything up, and manning all the equipment to capture the best sound. Like producers, they will usually charge by the hour.
Mixing engineer
The mixing engineer will take all the tracks you recorded in the studio, find the best takes, and put it all together into a song. They'll adjust the levels, add EQ, effects, compression, reverb, and the like to make the song sound as good as possible. Most mixing engineers will charge per track, though some may charge more if you have really long songs.
Mastering engineer
Mastering engineers get the song ready for release. A lot of what they do is raising the level, evening things out, fixing minor problems with the mix, and adding text information to the track. Like mixers, mastering engineers will often charge per track or album.
Artwork
If you're looking to distribute your song on major online retailers, it definitely helps to have some great looking artwork to go with it. Plus, this will also give your some cool images for your promotion. Artwork doesn't have to be super expensive. More likely than not, there are a bunch of talented artists in your town who could come up with something really cool for a few hundred dollars.
Distribution
Once the single is done, you need to get it out to your fans. It's probably not worth putting your single on a physical CD by itself, so you'll just be dealing with digital distribution. Both CD Baby and TuneCore will distribute your single to the major digital retailers for about $10. Other services like DistroKid will let you distribute as many songs as you want for about $20 per year. Loudr will also let you distribute an unlimited number of songs for a 15 percent commission.
Promotion
Depending on where you are in your career, promotion could be completely free or a pretty big expense. Social media and your email list are both definitely great tools to get your music out there. Try to come up with a creative campaign that builds off engagement and sharing, and give early sneak peeks to get your fans hyped. You could also use the album art and make an easy lyric video for YouTube.
If you have a bit more money, you could boost some posts on Facebook to get more exposure when your single is released, hire a publicist to get some great reviews, or create a music video.
As you can see, there is a lot to think about even if you're just releasing one song, and going into it with a plan is the name of the game. Just like recording and releasing music, you should also have a plan for your music career. You need to know where you want to go and how to get there, and that's exactly what you'll learn how to do in the ebook Hack the Music Business. Click here to download the ebook for free.   
Dave Kusek is the founder of the New Artist Model, an online music business school for independent musicians, performers, recording artists, producers, managers, and songwriters. He is also the founder of Berklee Online, co-author of The Future of Music, and a member of the team who brought midi to the market.