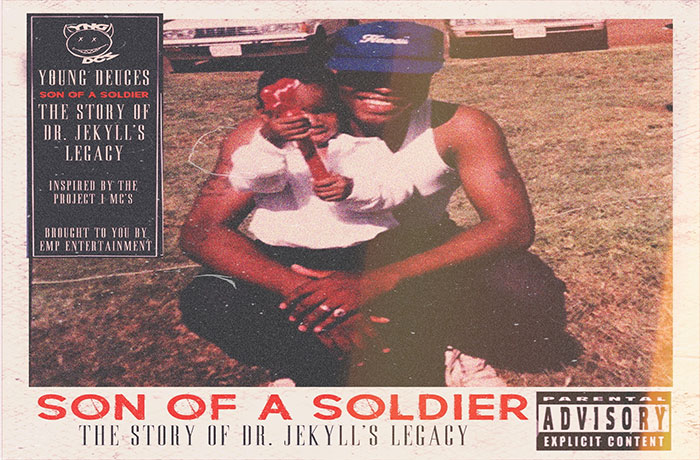 Young Deuces releases his brand new album titled 'Son of a Soldier'.
Midwest artist Young Deuces finish of 2019 with a 7 Track EP that is a dedication and a gift to the world and his father. After finding his father's old rap book in the basement, Young Deuces was inspired. Seeing the first song he ever learned, "The Dream" a song written and dedicated to the honorable Dr. Martin Luther King, the memories of being in the studio with his Pops started to come back.
The rap book consisted of 7 songs that Young Deuces took inspiration from, using those exact same title's for his songs, he constructed music influenced by Dr. Jekyll himself (his dad). With production from his in house producer K. Mel Beatz and others such as M A J I M E. & Brown Jewel, Young Deuces continues to give you lyrics about Black Excellence, Blaack Love and progress within the culture.
When asked about the EP, Young Deuces stated: "This album was close to the heart but tough to write. Anytime you dedicate something to somebody, you put a lot of weight on your shoulders because if it's wack, that will forever be synonymous with that person's name . I wanted to honor my Pops so much that I got in my own way, but once I just let my pen speak, everything came to place. Whats dope is that the same vibes he was on, that Black Excellence and Progress within our people, is where I am at now. The apple dont fall too far from the tree for real ." – Young Deuces