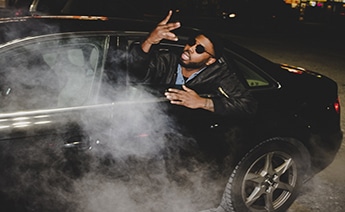 Van Hill drops off two new singles in 'Plaza' and 'Stressed' produced by Edeez.
A promising young talent from Brampton Ontario (West of Toronto), Van Hill has steadily released a solid catalog of music that continues to grow his fan base. After dropping an EP titled "Sad Day At Wonderland" in November 2016, Van has been releasing a string of singles, loose records and collaborations for most of 2017.
Van has a strong and relatable presence on his records and continues to stand out as an elite songwriter. With witty word play and double entendre, his lyricism and smooth melodies make for a captivating sound.
Speaking on the new records, "'Plaza' is about Me and the guys that forever link up at the plaza. Either for some backwoods or some backwoods (haha,). It's a religion, ain't no way around it. No motive? You should just go home my guy, I've seen niggas do the most when there ain't much to do. True story."
For the accompanying record Van says, 'Stressed' is about how sometimes we get obsessed with this art thing we're trying to do. Haven't figured it out if it's a good or bad thing yet, I guess time will tell, or maybe it won't? Maybe we tell ourselves that for comfort, because we're afraid of the future. A curse for living in the present I suppose. Watching the clock tick is like a bug; a tick."