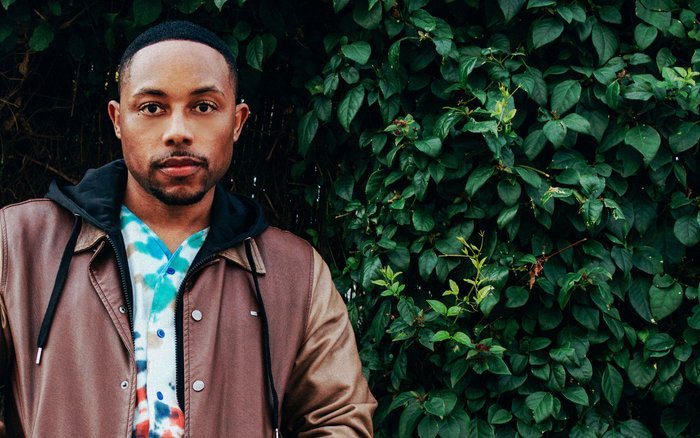 Los Angeles based emcee F.Y.I. presents the HighTopBully directed music video for "Trust Me", the Dale Danja-produced single from his new EP F.Y.I. Invented Green. F.Y.I. first gained notoriety in 2010 as part of trio Those Chosen on their EP 5ive, produced mainly by Grammy-Award winning super-producer, IZ Avila. In 2012 F.Y.I. collaborated with Ab-Soul on "Dopamine", which appeared on his first solo mixtape Yo! The Places You'll Go which hit #1 on CMJ's Hip Hop Charts. That year he also dropped an exclusive freestyle for HipHopDX. F.Y.I. says he was inspired to write his new single "based on my observation of the culture and how it's become so commercialized and watered down that people are starving to hear an emcee that they can trust to be raw and express themselves totally with NO false pretense fake sh*t."
SFHH: What made you decide to become a rapper?
F.Y.I.: I've been an artist since birth. A creative being. It's how God made me. I love to express myself and when I first heard hip-hop, I knew I wanted to be a part of it. I'm that carpenter laying wood, adding new layers, adding some new tile, new carpet, and so on. I'm building my own room in the house of hip hop and inviting others to come sit down, put they feet up, vibe out to the décor of my room.
SFHH: What's the first rap song you ever heard? Describe the moment.
F.Y.I.: The moment I knew that rap was dope wasn't a specific song per say, it was more of the vibe I got when I used to kick it with my step-father and he used to play his mixtapes while we rolled around in his ride doing errands or what not. I would just be in the car rolling with him, vibing out, and in mind I was like this shit he's playing right now is the hardest shit I ever heard in my life! The energy, the flows, the slanguage, the fashion on the album covers; whether it was Ice Cube, Nas, Common, DJ Quik, Snoop Dog, A Tribe Called Quest, whoever. It was bigger than one song, it was my culture, it was my community, it was like listening to older brothers give me game, it was me. I knew it in my soul from day one of being introduced it.
[jwplayer player="1″ mediaid="102742″]
SFHH:
How did "Trust Me" come together?
F.Y.I.: I linked up with the homie, Dale Danja, and he slid me a beat tape. On that beat tape was the track that would become "Trust Me". Certain beats just speak to me in way. This beat was dark but futuristic and just had that next level vibe to it. So I wanted to come with them high caliber next level raps to match that beat but have a real concept to it not just bars for the sake of bars. Once you got the ingredients, you get your recipe and then you can cook. Simple as that.
SFHH: What are your predictions for 2017, personally and in terms of the world?
F.Y.I.: Let me get my niggadamus on for a minute for all 2017 predictions! Naw, seriously, my goals are to continue to grow as man spiritually, financially, and musically. Within that process, as long as I am walking with God then he will be able to mold me into being laser sharp with how I present my music to the world whether sonically, visually or with the stage performance. As for the world, Michael Jackson said it best, until we all look at the man (or woman) in the mirror and look deep into how that person can change then nothing will change. I know from my community, a lot of people are concerned about what is going to happen because America has a new president, but the reality is a president is a person and whether you like that person or not is not the point, the point is he (or she) is not God or the supreme ruler of your life and you and only you can help change your own situation. Waiting on a person or system of government to change your situation will forever be disappointing to some degree and 2017 will be example of that for some folks if that is their approach to addressing things in their life that they want to see change. Niggadamus has spoken.
SFHH: How did your Ab-Soul collab happen? What was the experience like?
F.Y.I.: At that time, I was in a rap group that was gaining buzz and my camp presented the idea to us about collaborating on a song with him. I cooked up the concept for Dopamine. And the rest is one for the record books.
[jwplayer player="1″ mediaid="62857″]