iLLspokinn – Explains How 'The New JC' Came Together & What We Can Look For in 2018
Brooklyn-based emcee iLLspokinn presents the video for "The New JC", a song from Vagabond Road, the collaboration EP between iLLspokinn and French DJ/producer ZaJazza. Raised in Taunton, Massachusetts by his Cape Verdean mother, iLLspokinn has collaborated with Sadat X and Grammy award-winning vocalist Maya Azucena, and was named one of Rawkus' 50 next important hip-hop artists as part of his band Spokinn Movement. He regularly performs worldwide, recently at Super Bowl LI for the official NFL pre-party in Houston, the Atlantic Music Expo in Cabo Verde and the Timitar Festival in Morocco.
He also performs worldwide as a DJ, regularly DJing NBA events. "Last Call" his 2011 collaboration with Marsal Ventura, Jordi Vèliz & Aritz, remained at #1 on Barcelona's FlaixFm dance charts for fourteen weeks, and his single "Here We Go Again" has been featured on The Mindy Project, Rob Dyrdeck's Fantasy Factory and Alpha House as well as Winter Olympics coverage.
iLLspokinn is producer, host and co-founder of Freestyle Mondays, one of New York City's longest-running hip-hop events, and is co-founder of Urban Art Beat, which partners artists and volunteers with underserved schools and organizations. Based in Lyon after spending several years in New York, Dubai and Latin America, ZaJazza has collaborated with Homeboy Sandman, performed alongside Quantic and Andy Smith of Portishead, was named Middle East DJ Champion in 2014, and has had his music used in FIFA World Cup coverage.
"The New JC" is directed by Mtume Gant, the emcee/director currently touring in support of his second short film White Face. "As a teenager I was warned by my pops about the police force and how to act to stay alive," iLLspokinn says about the track. "I was told that I may be treated differently and it wasn't until it really happened that it sunk in. It's important that people know that this conversation still has to happen today. I also wrote about my personal experiences with my family for the first time on record. I grew up in a Cabo Verde/American household.
Cabo Verde is an African island country that was colonized by the Portuguese. A lot of Cape Verdeans identify with being Portuguese and not African, and that is an issue. That colonized mindset, like in a lot of cultures, carries on through generations and it affects the darker-skinned folk of that group. I also address the struggle of having close family members in the police force. I know they are good humans but I'm aware of what that badge stands for in a lot of our communities. We do NOT live in a post-racial society."
How did you get your stage name?
I got it from my rhyming partner in College. He was a old school fan of the Beatnuts. In their song Stone Crazy they say, "the hydro cheeba smokin
Leave ya witcha nose broken, the ill spoken."  After that I changed the spelling because it was too straight forward and the rest is history.
What made you decide to become a rapper?
I've been writing poetry since middle school and won a few contests as a teenager. Moms was a writer and Pops was a drummer so I was around music. A few friends were always freestyling so I joined in and realized I had a love for it.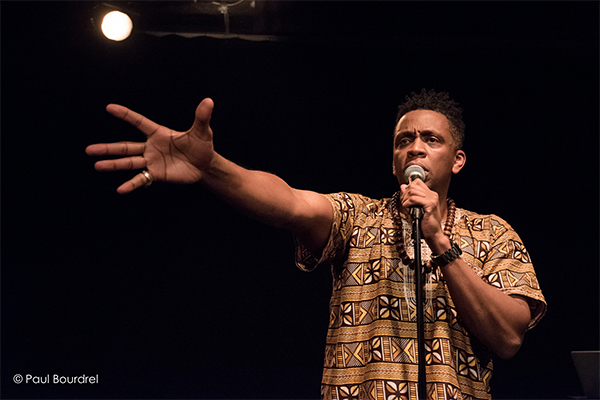 What's the first rap song you ever heard? Describe the moment?
Children's Story by Slick Rick. WHAT!?! I was astounded! This dude made me visualize the story while I listened. This is the first time it's ever happened to me so listened to it as much as I could. My older cousin was a Hip Hop head and he put me on to what's what.
How did "The New JC" come together?
My DJ/Producer Zajazza and I were discussing police brutality and we knew we needed something for this album. He said the beat needed to be a headbanger so he went to work. He sent back The New JC instrumental with the sample at the beginning and I nearly lost my mind. After I wrote it we decided to invite DJ P, one of France's best turntablists, to do the cuts on the hook. It came to together organically especially when Mtume Gant approached us with a video idea after hearing the track.
What are your predictions for 2018?
We are working on our next project and just linked with a booker for Europe and Africa for 2018. We already have January booked and we are working on a few Summer festival dates. I also have another project dropping at the beginning of the year with my band from Budapest, Hungary.
[jwplayer player="1″ mediaid="112091″]