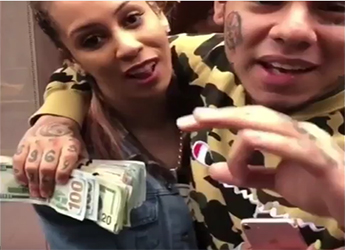 Chief Keef's baby mama, Slim Danger was on The Domenick Nati Show today. Here is what was discussed.
From the gate Slim Danger revealed that She worked in the porn industry for 6 months. She then explained to The Domenick Nati Show that 6ix9ine bought her Gucci fanny pack and put $20,000 inside for Chief Keef's son's birthday. This is getting personal when you insert comments about a man's children; if what she said is true.
6ix9ine is doing a little much for a woman he does not know again, if these things are true. Slim said the price for the fanny pack was $1,400 and that he gave her mom and aunt $1,500 to go shopping. The next question led dating 6ix9ine and she didn't say that she's dating 6ix9ine but provided "they just having fun right now."
Slim Danger says that she spoke with Chief Keef and says he's not mad about her video with 6ix9ine.
[jwplayer player="1″ mediaid="117467″]