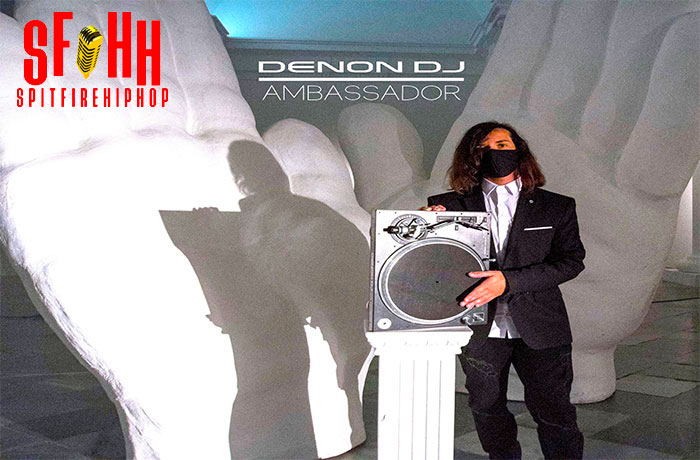 Valencia, Spain producer DJ Soak presents "Don't Kill My Vibe," his new single featuring Uncle Murda, Jalen Santoy, J Higgz and Dae Delacruzz. Winning his first DMC trophy at the age of twelve, Soak went on to become DMC champ two years in a row along with scooping up medals at the ITF, IDA and Redbull Thre3Style tournaments, as well as being nominated for the Vicious Music Awards' Best Bass Music/Freestyle Artist five years in a row.
Soak received the 2018 Best Album award from Orbita Magazine for his album Paradiso, and has shared stages worldwide with Diplo, Skrillex, Moby, Justice, Vitalic, The Glitch and too many others to count. His debut release was his 2018 EP Run Away which featured Anderson.Paak (watch the music video). "Don't Kill My Vibe" unites the talents of several MCs from across the world; G-Unit artist and Brooklyn representative Uncle Murda, North Carolina rapper Jalen Santoy, J Higgz tuning in from Spain via Wales, and Dae LaCruzz representing the Canary Islands.
"I had the idea of making a song with several MCs from both Spain and overseas to connect several cultures and flows," Soak said about the new single. "I only invited MCs who I knew could keep up with the pace of the beat."
What was the process of recording a song like this with people from so many different parts of the world?
From the first moment I was clear that I wanted to have MCs with a very strong identity. That's why I decided to have 4 collaborations. As a producer I had in mind to develop a modern classical concept, with a musical touch away from the typical boom bap sound, so I added as a leitmotif a chorus of electric guitar played in a way between blues and american rock to be the main element alongside Dae's vocals. The process was to send Jalen Santoy the instrumental.
He recorded his part and sent me his acapella. Then I contacted J Higgz. At that moment I had just discovered him, and it impacted me so much to hear someone from my country with his kind of skills that I immediately wrote to him on Instagram proposing the project. Finally I contacted Uncle Murda to get 12 bars, and for the final touch I told him and Dae to record a small chorus.
Describe a day in the life of DJ Soak.
A creative day can be very enriching while chaotic at the same time. When I wake up I only think in music, it is my obsession…. I prepare a fruit shake to get vitamins in the morning and start looking for new ideas in the studio, either composing, reviewing previous ideas, or sampling discs.
Name three artists you'd collaborate with on your dream album and why?
Pharrell Williams. I've always loved all his work. Whether as a composer or producer, everything he touches turns into magic. This collaboration would be a dream for me. He is the GOAT. Daft Punk too. I was born listening to all their music, and they are one of my greatest influences to this day. Bruno Mars and The Weeknd too. They are catchy.
People seem less and less willing to listen to an entire album as opposed to picking their favorite songs and leaving it there. Do you still believe in the concept of an album?
A complete album from my point of view is a piece normally created with a coherence so that it has a more solid manifesto. With the new change in the music industry, singles also provide other good options. Much more music is consumed than 10 years ago and now a complete album is not as important.
This behavior is a bad on the part of the society, because spending one or two years creating an entire album that ends up with more or less the same feedback as a single is not satisfactory for the artist.
What have you sacrificed for your career?
Depending on the time it is sometimes more stable and unstable. In my case I sacrifice a lot and will continue to until I reach the final goal – social life, friends, girlfriends, relationships, needs etc.