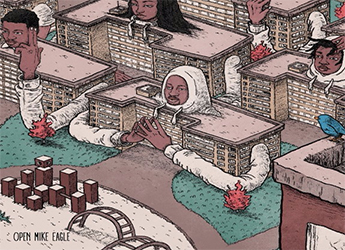 Open Mike Eagle releases his new album titled 'Brick Body Kids Still Daydream'.
One of the most highly anticipated albums of the year, Open Mike Eagle's Brick Body Kids Still Daydream is out today (cd shipping 9/29, vinyl shipping 10/27). Â A concept album about the Robert Taylor Homes projects in Chicago, this project is incredibly personal. The album is laced with both prodding satire as well as deep empathy for the people who lost their homes and disappeared after the projects were destroyed.
Musically the album feels like maturity from the Chicago native. Mike's singing style of rap has come to a melodic sophistication. The production is warm and quirky, even reaching points of melancholy as Mike weaves through personas and embodies the emptiness of a home lost.
Brick Body Kids Still Daydream is a searingly political record for systolic political times. It chronicles the life cycle of the Robert Taylor Homes, a housing project on the South side of Chicago that was demolished completely ten years ago. Families that had lived under the same roof for three generations were forced to scatter, condemned by bureaucrats and faceless cranes and public indifference. Mike Eagle brings the Robert Taylor Homes back to life–literally, with arms and eyes and a head like the dome of a stadium–and fights until the last brick is made to crumble.
As grave as the album's stakes are, it's still anchored by Mike Eagle's irrepressible sense of humor. (His live comedy show, The New Negroes, is upcoming via Comedy Central.) "no selling" is a hilarious take on practiced indifference, and "TLDR" bridges the economic gap with withering wit: "If you was rich and 'bout to be broke, I can coach you / 'Cause I can show you how to kill a roach with a boat shoe."