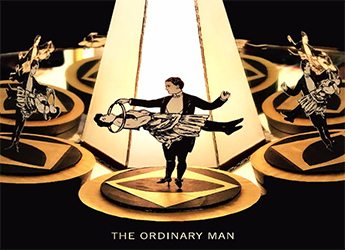 L'Orange shares his new album, 'The Ordinary Man'.
L'Orange's third solo album 'The Ordinary Man' is here.  The new album blends vocals tracks (including his first collaboration with label mate Oddisee) and instrumental works.  Set in the first half of the 1900s, 'The Ordinary Man' follows the career of a magician through the height of success and down through disillusionment as well.
The new album is by far L'Orange's most musical to date, including assists from bassist Paul Defiglia throughout. L'Orange successfully crafts a world somewhere between prohibition-era speakeasy's and a futuristic urban landscape. After a series of collaborations with Kool Keith, Jeremiah Jae, and Mr. Lif, L'Orange's new solo album firmly roots listeners in his world. The result is an record somewhere between genres, as Hiphop as electronic, dancing the divides first navigated by RJD2 and DJ Shadow.
Take a moment to listen to "The Ordinary Man" from Seattle based producer L'Orange.