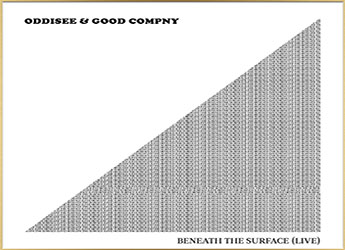 Oddisee and Good Compny release the live album, 'Beneath The Surface'.
Oddisee has had a banner 2017: He dropped the critically acclaimed solo album The Iceberg, had the largest international tour of his career (over 110 shows), landed 16 compositions on the Humans of New York television series soundtrack, penned & preformed spoken word for World Champion alpine skier Lindsey Vonn in an Under Armour ad, had songs all over ESPN, was featured musically in the Vice film "The Last Shot," was included in Adult Swim's single series, could be heard in stores around the globe (including Starbucks and Adidas' flagship store), did interviews everywhere from NPR to MTV, debuted his new video with Time Magazine and was featured in their print edition, and even became a new father. But that was all in the first ten months of the year. Oddisee still has eight more international shows from Italy to Switzerland, and Germany to Portugal. And add to that, today, Oddisee is blessing us with his first ever live album: Beneath The Surface.
Oddisee and his band director Dennis Turner put together the new album from their favorite live recordings of performances this year. The result is a new 12 cut album featuring special extended live versions. The entire band gets to shine from drummer Jon Laine to Richard "DJ Unown" Patterson on MPC/samples. One highlight comes in the form of keyboardist Ralph Real getting into a vocal soul-volley with guitarist and crooner Olivier St. Louis on You Know Who You Are. Mr. Dennis Turner handles bass throughout while Oddisee leads the show on vocals.