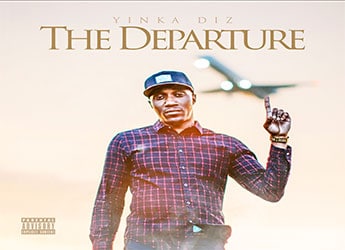 Yinka Diz returns with his new album titled 'The Departure'.
Following a one-two punch of Jean-Michel Basquiat-inspired mixtapes - New Art, New Money and The Radiant Child – Nigerian-blooded, American-bred, world-traveled rapper Yinka Diz presents The Departure, his debut album featuring guest appearances from Lalo of The M3thod, Big Benz, Chalice Serrano, Concrete and Darian Moore. Lalo, Superville, David Bocuse, Kid Soul Brother, Joe Prime, Dae One, Beatfanatik, COSMIC and Yinka himself contribute production to the album, which Yinka calls "the soundtrack to the black travel movement."
Born in Chicago to a mother from the infamous Cabrini Green projects and a Nigerian immigrant father, Yinka spent the early years of his childhood living in and around the city before moving to the Inland Empire, just outside of Los Angeles; a life journey that helped shape what he calls a "street-cosmopolitan" sound. Visuals from The Departure include "Vegas", "Hear Me, Tho" and "Night In Dubai". Yinka currently resides in Washington, D.C. #ThatLife.