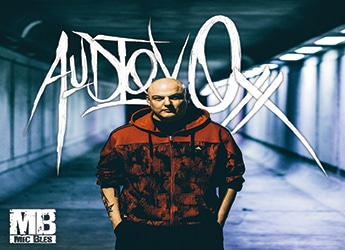 Mic Bles shares his new album with us titled 'AudiovOX'. The possesses 16 tracks dedicated to the boom bap era.
The new album by Mic Bles brings a refreshing take on the authentic boom-bap sound that we've all grown to love. The album is reminiscent of a Golden Era Hip Hop classic, which features a few Hip-Hop vets such as Ras Kass, El Da Sensei (Artifacts), Pacewon, DJ Romes and MED plus gritty and smooth production combined with classic samples and cuts throughout.
The Lead single "Pay Homage",featuring the legendary lyricist Ras kass leads the way & sets the tone for the album. Ras always delivers stellar bars but Mic Bles brings his "A" game as well as both Mc's show their love & respect for the pioneers that paved the way for the culture we love! The best part of hearing the album is that's its 100% authentic quality hip hop. Mic is true to the music, the culture and most importantly himself.
With many different routes to take when adapting a musical tone in hip-hop, it's often refreshing to take things back to basics. AudiovOx brings back solid substance focusing on tight lyricism on hard hitting production.
Hip Hop is all too encompassing and too massive a culture to be pigeonholed to a singular sound, but if there was ever a definitive sound for the genre then dammit this is it.
Preset with id 0 does not exist!Main playlist with id 583 does not exist!