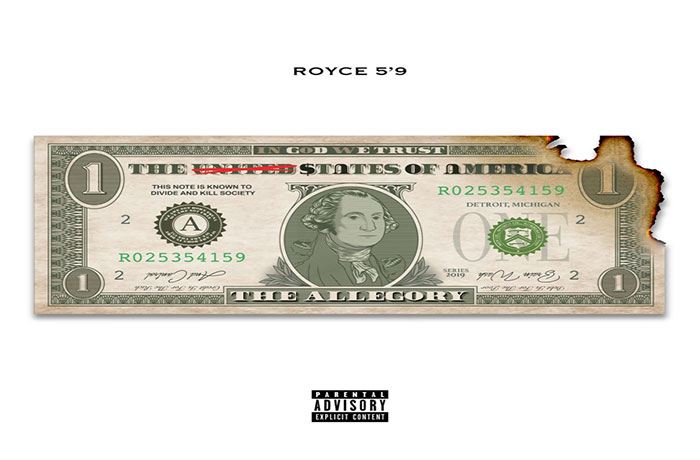 Royce 5'9″ releases his much anticipated album titled 'The Allegory'.
eOne and Heaven Studios, Inc are pleased to announce the release of, THE ALLEGORY, Royce 5'9″'s progressive and conceptual examination of the new Americana in 2020. THE ALLEGORY is now available on all DSPs.
THE ALLEGORY examines a climate where frauds are being perpetrated all around us. While some of those frauds eventually make themselves known, most remain hidden in plain sight; and it's become increasingly difficult to know exactly who and what to trust.
Political divisiveness, rising racial tensions, civil rights violations, social media toxicity, fame culture, wealth disparity, mental illness, mass shootings, the lack of parental oversight and an opioid epidemic that is ravaging our communities. These are just a handful of the issues that are eroding our social and moral fiber and the trickle-down effect it has created.
"THE ALLEGORY is a study on perception and secret and not so secret ills that are afflicting our society. I have a desire to give light to these wrongs in an effort to start the conversation and hopefully help the next generation navigate through, states Royce 5'9″."
"I'm not a legend, I'm not a vet, do not address me as second, I'm the best, you ni**as always sleepin', I'd rather stay wake, they say you are what you eat, but I never ate goat."
THE ALLEGORY continues to display Royce's progression and growth as an artist, as he immerses himself into production, solely producing THE ALLEGORY in its entirety. His foray into production was foreshadowed by Eminem's recently released chart-topping album Music To Be Murdered By, as Royce 5'9″ co-produced two tracks from the surprise album, including "You Gon' Learn" featuring White Gold and with Em, Royce adds to his production arsenal on the controversial lead-single "Darkness."
"Production was the next step in the trajectory of my musical career. I've been a ghost-writer for years, reached platinum-status with my own projects and helped others do the same. Adding the title of producer completes the circle" states Royce 5'9″.
Royce 5'9″ has balanced substance and style with the best in music. In addition to an incredible solo career, Royce co-founded Bad Meets Evil (with Eminem), Slaughterhouse (with Joe Budden, Joell Ortiz, and KXNG Crooked), and PRhyme (with DJ Premier). Most known for his confident wordplay, Royce 5'9″ sits with Hip-Hop's elite and continues to be one of raps most trusted brands. The once self-proclaimed "best-kept secret" of Rap, this platinum-selling, list-topping MC continues to earn his accolades though his ability to release new music with an unmatched consistency.
Tracklisting & Credits for Royce 5'9″ THE ALLEGORY:
1. Mr. Grace (Intro)
2. Dope Man feat. Emanny & Cedric The Entertainer
3. I Don't Age
4. Pendulum feat. Ashley Sorrell
5. I Play Forever feat. Grafh
6. Ice Cream(Interlude)
7. On The Block feat. Oswin Benjamin & DJ Premier
8. Generation Is Broken
9. Overcomer feat. WestSide Gunn
10. Mrs. Grace (Interlude)
11. Thou Shall feat. Kid Vishis
12. FUBU feat. Conway The Machine
13. A Black Man Favorite Shoe (Skit)
14. Upside Down feat. Ashley Sorrell & Benny The Butcher
15. Perspective (Skit)
16. Tricked feat. KXNG Crooked
17. Black People In America
18. Black Savage feat. Sy Ari Da Kid, White Gold, CyHi The Prynce & T.I.
19. Rhinestone Doo Rag
20. Young World feat. Vince Staples & G Perico
21. My People Free feat. Ashley Sorrell
22. Hero feat. White Gold
***All Tracks Produced By Royce 5'9″