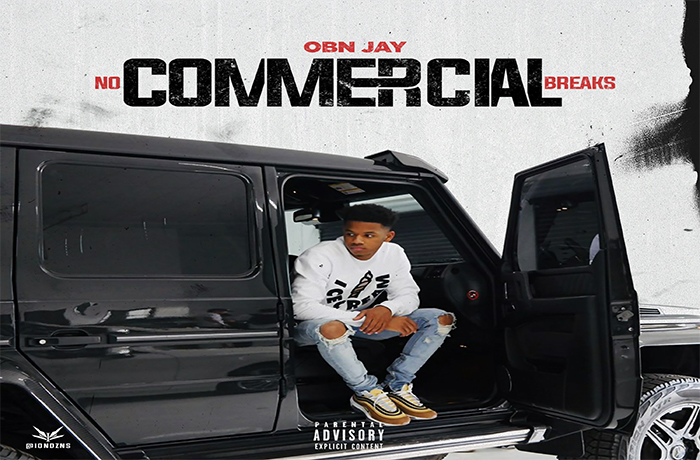 OBN Jay makes his SpitFireHipHop with his new "No Commercial Breaks" album.
OBN Jay is next up out of Baton Rouge, LA.  Into his 4th commercial release today, titled "No Commercial Breaks," the 19 year old artist has shown no signs of slowing down.  Accumulating over 50 million views on YouTube, over 100k monthly listeners on Spotify, and nearing 300k followers on Instagram, OBN Jay has built up a strong core audience in just a short two year span.
"No Commercial Breaks" hopes to be OBN Jay's breakout release, showcasing his wordplay and lyricism with minimal features.  The only features contained on this project are his close friends Jackboy (from Sniper Gang) and the rising Chicago Drill rapper King Von.
OBN Jay says, "'No Commercial Breaks" is my way of not slowing down, I want everyone to know that I'm coming for their necks. Especially now, there's no rules to this shit and I want everyone to see the hard work we've put in to get to this point."
This album is already getting rave reviews, especially with the single "Dead Presidents" featuring Jackboy which had the video world premiered on BET Jams last week.  "Dead Presidents" sheds light on the hood perspective to the pandemic plaguing the nation.  In underreported communities the resources aren't there that billion dollar corporations are receiving, so it's basically survival of the fittest.
Tracklist "No Commercial Breaks"
1. Bruce Lee
2. Twilight
3. Been Thru
4. Dead Presidents ft. Jackboy
5. NOLA
6. Faygos
7. Booted Up
8. Blue Moon
9. No Weakness 2
10. Trap Daily ft. King Von
11. Facts
12. On My Level