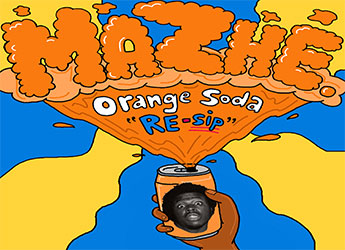 MaZhe is back with this new single he calls 'Orange Soda Re-Sip'.
San Diego rapper MaZhe is out with another great song with his new song, 'Orange Soda (re-sip)'. On the single MaZhe raps over the beat of a Vic Mensa song of the same name.
The single "Orange Soda Re-Sip" features the hypnotic, aggressive lyrics and impressive flows and rhyme schemes MaZhe is starting to become known for. MaZhe's vocals are youthful, but have a texture and tension to them that really make his sound stand out as it's own.
The term "re-sip" truly is appropriate for this song, as MaZhe does incredible work bringing his unique character and putting his own spin on a song made by an artist he's clearly passionate about. MaZhe's "Orange Soda (re-sip)" is a refreshing reincarnation of a smooth boom bap sound playing compliment to MaZhe's energetic bars.