Tone Chop and Frost Gamble connect with Planet Asia and White Rhino for 'Guillotine Chop'.
Earlier this week, the label dropped the single 'Barely Human' by Royce da 5'9″ and Tech N9ne for the 6th anniversary of their releasing Nickel's 'Success Is Certain'. High calibre lyricism stays on the agenda with this new one, Frost's atmospheric backdrop underpinning sharp menacing bars by Chop and guest artists Planet Asia and Canadian up-and-comer White Rhino.
The album also features the States' most viewed online rap battler D.N.A., Kool G Rap and Tragedy Khadafi with whom Frost has just wrapped up a new project. He is also near completion of a new solo producer album which includes contributions by Ras Kass, Skyzoo, KXNG Crooked, Ruste Juxx, Rah Digga and Guilty Simpson.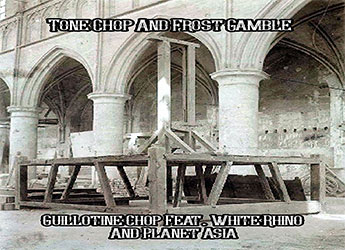 Preset with id 10 does not exist!Main playlist with id 542 does not exist!