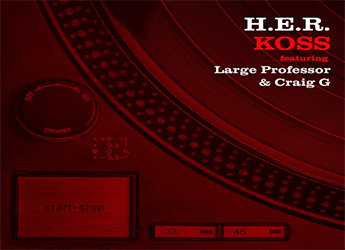 Koss connects with Large Professor and Craig G for the new single, 'H.E.R.'.
Belgian producer Koss's new single "H.E.R." from the upcoming album "Born To Live". Standing for "Hearing Every Rhyme" this organ laced track provides a funky backdrop for MC dream team of Large Professor (Main Source) and Craig G (Juice Crew) to wax nostalgic about when hip-hop first grabbed them in their youth.
Speaking on the track Koss related the following "I appreciate the passion that artists like Large Pro and Craig G have kept through their entire careers. This joint is about that same very intimate connection that you can get within Hip-Hop culture. Remember from where this all came from and where it reaches today.. It's still a kind of miracle."
"H.E.R." will appear on the forthcoming Koss production album entitled "Born To Live". The album will drop in CD and digital editions on September 8th via Below System Records, with the vinyl edition dropping via Slice Of Spice Records.
A hip-hop purist who only creates his productions using turntables, vinyl and an MPC, he has assembled an all-star line-up of MC's for the album including Torae, Large Professor, Masta Ace, J Live, Keith Murray, Blaq Poet, Ruste Juxx and Craig G.