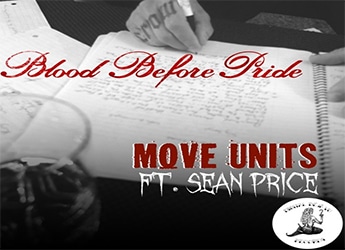 Blood Before Pride debuts on SpitFireHipHop with 'Move Units' featuring Sean Price.
It's Zumaque who helps bring that extra something special to the chugging 'Move Units,' which comes as no surprise, given his involvement on Rockness A.P. He co-produced a majority of the tracks on Rock's record, so it's only fitting he'd continue building his connection with Anastasia and Blood Before Pride. That's especially true given that Rock appeared on the band's debut single, a cover of Beastie Boys classic "Looking Down the Barrel of a Gun," alongside M.O.P.'s Lil Fame.
It's those musical Easter Eggs that solidify the bridge built between the band's roots in Hip-Hop and rock, in addition to the actual players involved. Blood Before Pride's Mimesis, Catharsis, and the Imitation of Art in Life will be released on 10-20-17 by Digital Deju Vu Records.