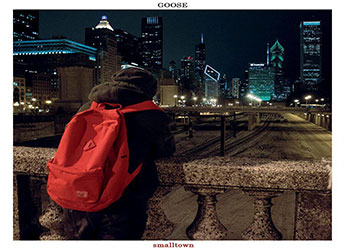 Goose returns with 'Put Me On' featuring Ash Wednesday.
Even though Goose is "from the state where Cam used to get it in," he has spent the past few years trying to make a name for himself in Chicago's thriving hip-hop scene. In recent years the Chicago Renaissance has blossomed countless talented and exciting performers, which can make it difficult for a new artist to stand out. But on Goose's latest single, titled "Put Me On," he's up to the challenge.
Goose taps Chicago vet Montana Macks (Rich Jones, Vic Spencer, Second City Citizens) for a neck-snapping boom bap beat, over which he raps about his struggles as an emerging artist. Though he feels overlooked as a rapper, Goose is never bitter on the track and maintains a sense of humor about his lack of clout: "We never made it to Southby, so local they don't here me on the south side." Ash Wednesday also adds her unique wordplay and effortless swagger over Macks' '90s-influenced production, while Ano Ba contributes additional vocals to the track's outro.