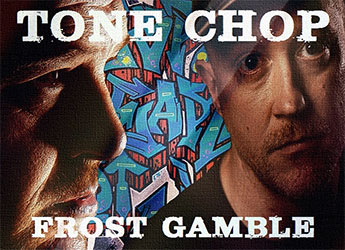 Tone Chop and Frost Gamble are back with this new 'Chop 'Em Up' freestyle.
East Coast rapper/producer duo Tone Chop and Frost Gamble released their album "Respect Is Earned Not Given" in September featuring Kool G Rap, Planet Asia, DNA and Tragedy Khadafi.
While in NYC last month they appeared as guests of DJ Eclipse on his Sirius XM "Rap Is Outta Control Show" a few days before Frost released his "Rare Fabric" EP with Tragedy Khadafi and his remix of the Kid Vishis single "Go Off" featuring Royce da 5'9″.
The pair are back with a brand new joint "Chop 'Em Up" freestyle. The battle hardened rapper delivers a salvo of his trademark punchline bars over Frost's bass heavy beats that kick like a mule.