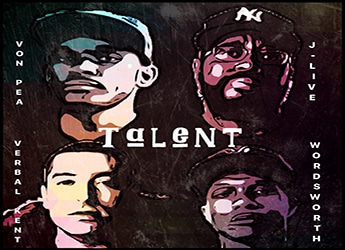 Von Pea & The Other Guys connect with J-Live, Verbal Kent and Wordsworth for this message track titled 'Talent'.
Von Pea & The Other Guys are back with another fortified jewel from their World Class LP, The Fiasco now available on glorious viny.
The new single "Talent" the team enlists the lyrical weight of J-Live, Wordsworth and Verbal Kent over an ill piano loop, as they crush illusions of grandeur some people have in this social media culture. Wordsworth said it best…"Here is a solution for those less talented, hit me online and I can sell you a talent kit, it comes with some rhymes, hooks and some other lines, beats produced and mixed unreleased from The Other Guys." Well said my man.
Preset with id 0 does not exist!Main playlist with id 579 does not exist!