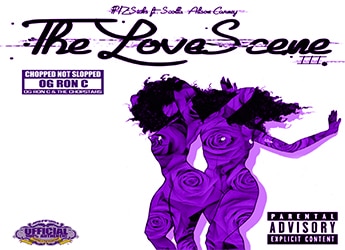 PHZ-Sicks gets a remix of his 'The Love Scene III' from DJ OG Ron C.
Woodbridge, VA rap artist PHZ-Sicks (pronounced 'physics') presents DJ OG Ron C's Chopped Not Slopped remix of "Love Scene III" featuring Scolla and Ace Ono. Co-founder of Swishahouse Records (Slim Thug, Chamillionaire, Paul Wall, Mike Jones), Ron C has sold over 22 million mixtapes to date, and recently contributed music to the Moonlight soundtrack.
PHZ recently released 100 signed copies of The Moment II: A Good Day, a vinyl that combines songs from his last project, The Moment as well as his next project, Good Day, Greater Tomorrow, of which two songs have been released: "Run It" and "Riot In My Memory".
PHZ-Sicks is releasing a new single from the album on the 23rd of each month leading up to Good Day, Greater Tomorrow's summer drop. Born in Texas, PHZ says "my love for chopped and screwed also feels like my connection to my birth state. I didn't live long there but the music, lifestyle, and entrepreneurship of artist in Texas always felt like an extension of me. To have a legend like OG Ron C, who not long ago put out an amazing chopped not slopped for the film Moonlight, means the world to me.
It's moments like this that lets me know I'm doing something right and I want to make sure I have more moments like this." Ron C's remix of "Love Scene III" is exclusively on PHZ's Soundcloud page – check out the original version here