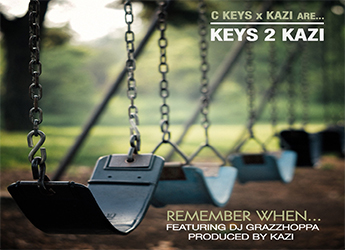 C Keys and Kazi drop off their new single 'Remember When' featuring DJ Grazzhoppa.
C Keys and Kazi release "Remember When", the first single from their upcoming collaboration album "Keys 2 Kazi". Cuts are provided by DJ Grazzhoppa.
California emcee C Keys (fka The Infamous MC) was born in San Francisco, raised in Oakland and now residing in Sacramento. Oxnard emcee and producer Kazi did his first record with C Keys back in 2004 on "So Invincible" from Kazi's "The Plague" album. C Keys has worked with Oh No, Aloe Blacc, Kan Kick and more and Kazi with Madlib, MED, Wildchild, Declaime and Oh No to mention a few.
The new album "Keys 2 Kazi" will be out soon, written and performed by C Keys and it's primarily produced by Kazi. C Keys adds the following about the single ""Remember When" was one of the first beats Kazi sent me, without thinking I immediately turned on my phones voice recording and started improvisational freestyling my verses into it. Once done, I went right to the booth and recorded."