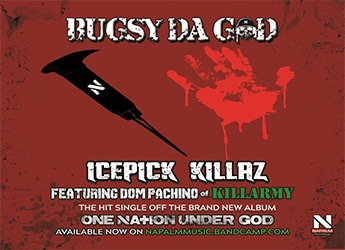 Bugsy Da God is joined by Dom Pachino on 'Icepick Killaz'.
Bugsy Da God (disciple of legendary Wu-Tang supergroup – KILLARMY, and protege of one of its lyrical generals, Dom Pachino) returns with a striking third LP titled "One Nation Under God", with the soul purpose to put these weak MCs under pressure. The maturity of his lyrics is evident on this third installment of terror, all while taking the Napalm brand to the next plateau.
Featuring the enticing stream of production by legendary Wu-Tang sonic engineer (4th Disciple), the quality soulful grit by the likes of one of Motown's finest (Bronze Nazareth), the beat conquistador from Spain who's been featured on a slew of recent Napalm masterpieces (Dash Shamash), as well as Da Advocate himself who adds some of that Warface production to seal the deal (Bugsy Da God).
Also featuring scorching hot verses from Dom Pachino and the legendary Wu-Syndicate, who have all appeared on the classic Wu-Tang Killa Bees compilation album "The Swarm". Bugsy's "One Nation Under God" album is a must have limited edition physical CD with enough heat to roast a whole nation. If you loved his last 2 installments, you ain't heard nothing yet. Get ready for the lightning ride of a lifetime.
Listen to 'Icepick Killaz' below.