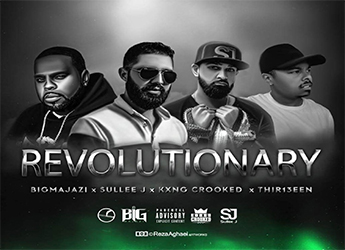 KXNG Crooked, Sullee Justice, Big Majazi and Thir13een combine talents on this new single 'Revolutionary'.
KXNG Crooked might be known to the masses for his role in former rap supergroup, Slaughterhouse but he's always been supportive of up and coming artist. He's blessed many freestyle circles and cyphers over the years, proving being one of the hottest rappers in the game. Today, KXNG Crooked, Sullee Justice, Big Majazi and Thir13een get together and release their single together, "Revolutionary."
Baltimore's Sullee Justice has worked with KXNG Crooked on a multiple tracks over the years, and is widely known for his philanthropy, cameos in music videos such as Eminem ft. Beyonce "walk on water" and major collaborations with artist such as Royce Da 5'9, Young Noble, D12, Canibus and more. He has an upcoming album titled "Spear" which is soon to drop toward the end of this year.
Sullee J is known for consistently conveying a positive and powerful message in his music. Him and Big Majazi from Iran designed the project "Revolutionary." They recruited Thir13een from the UK for the hook. The track embodies each artist's perspective on the world, lyrically over a tight beat.