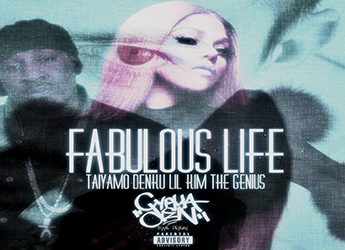 Taiyamo Denku connects with Lil Kim and The Genius for 'Fabulous Life'.
Taiyamo Denku the Milwaukee based emcee goes verse for verse with the once bad boy Queen Bee Lil Kim. Denku talks about how just the everyday things in Life can make his life fabulous. Kim then scorches on about how the life she has lived her way, the way she wanted to live it is Fabulous.
Kim shows on Fabulous life that she never lost a step in her lyrics and Denku compliments her well with his own style on the track. The song is bridged together very nice with the semi/commercial and semi Golden era boom bap production from Australian producer Dcypha and the Boston RnB sensation and hook master The Genius.
This song has is all and is the last official single Denku is dropping be4 his late June release of "No Industry Standard" You can preorder the album Below and listen to the single above.