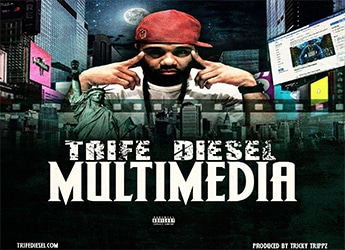 Trife Diesel returns today with this new single titled 'Multimedia'.
'Multimedia' is the follow up single off Trife Diesel's upcoming album "Project Pope II". The album is powerful to say the least, the "Tricky Trippz" produced track fuels Trife's well formed bars, which schools our new age "rappers," with scrutiny, and cast easy to follow directions in what it once took to become a respected and unique hip-hop artist.
"Believe in me like a child with special needs, I'm cut from a different cloth, I come from a different breed." -Trife Diesel
Listen to 'Multimedia' and leave a comment below.