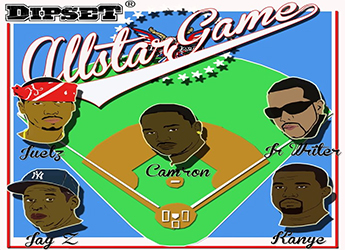 WalyO and The Diplomats connect with Jay Z and Kanye West on this new 'Allstar Game' release.
WalyO debuts on SpitFireHipHop with his latest release "Allstar Game" where he pairs The Diplomats members Camron, Juelz Santana and JR Writer with Jay Z and Kanye West. The track serves as a teaser from his forthcoming project "We Still Bangin" where he creates a number of original and creative tracks, in Dipset manner, comprised of both rare unheard featured acapellas and chopped/reworked classic verses to bring fans new music from the veteran crew whom they have been hungry to hear from for the past decade.
The mixtape comes to you in the likes of fellow producers like Amerigo Gazaway and Tom Caruana, to not only show off the talents of the production of the longtime beatsmith, but also the opportunity to hear your favorite rappers on fresh new beats.