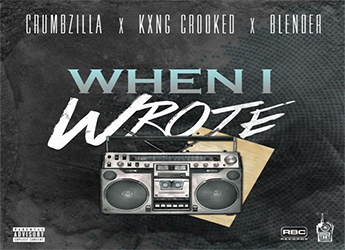 Crumbzilla connects with KXNG Crooked and Blender on his new single 'When I Wrote'.
Crumbzilla is an Army  veteran/up-&-coming Hip Hop artist out of Pittsburgh, PA. Zilla has recently partnered with the independent and massive powerhouse known as RBC Records. So far, we have heard two singles released from Crumbzilla's solo debut album titled "SPC SKEATH", and these singles (The Toxins and Papercut) are currently available on all digital platforms.
In addition to being an artist on the impressive roster at RBC Records, Crumbzilla has also begun his own, first of its kind, veteran owned and operated record label, Roger That Records Inc…more on this in the near future.
As Crumbzilla continues to release his hard hitting, carefully crafted singles, you can expect to hear his future releases to include collaborations with artists such as: Rittz, Sid Wilson (Slipknot), Wu–Tang Clan, Slaine, and more. Listen to 'When I Wrote' featuring KXNG Crooked and Blender below.