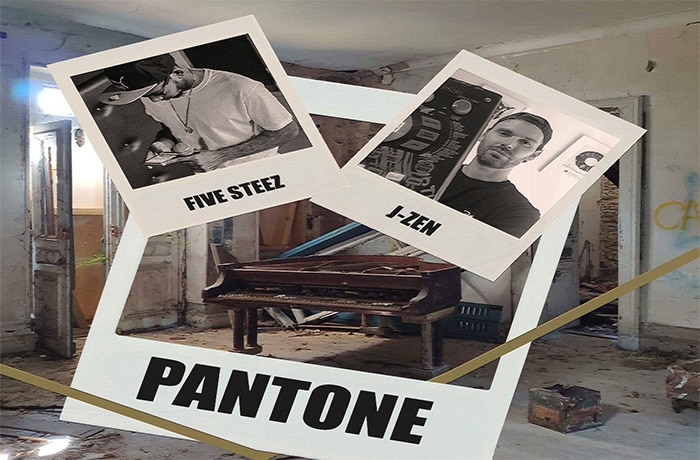 Five Steez & J-Zen release their collaborative 'Pantone' EP.
Kingston, Jamaica underground Hip Hop staple Five Steez has teamed up with French beatmaker J-Zen for the new EP Pantone. The project features four songs that will get heads nodding, having fun and even reflecting on life and death, all within 15 minutes.
Pantone opens with the track Spesh FX, featuring Nomad Carlos, a fellow MC of Five Steez in the four-member collective The Council. The party starts with What's Your Vibe? - a funky cut with an infectious groove and melody put together by J-Zen. Steez then takes a couple minutes to assert himself over any competition on No Debate. The final song, We Can Never Know, explores life's uncertainty, with Five Steez opening up in his first verse about friend and collaborator France Nooks, who passed in February 2018.
"J-Zen and I did these songs between late 2017 and early 2018," says Five Steez. "Now, our schedules have given us the time to wrap things up and share it with the world. I'm excited about this project because it's the same true school boom bap Hip Hop people know me for, but it's a very different groove, sound and texture from anything I've ever released."
J-Zen says, "I had been following Five Steez for a while and had heard his EP HeatRockz with Mordecai. I knew he was an artist I wanted to work with so I reached out and we made it happen. I'm proud to now present Pantone to the people and I hope they enjoy the music as much as we enjoyed making it."
Pantone is the second release in 2019 from Five Steez, who dropped the album Love N Art with Mordecai in February. The EP is the first release from J-Zen since the June 2018 beat tape Agave.
Five Steez made his debut with his 2012 album War for Peace, following up with 2014's EP These Kingston Times. HeatRockz was released in 2016, and, in 2017, he featured heavily on The Council's album Nothing Else Matters. J-Zen, who is signed to French independent label Dooinit Music, made his debut on the beatmaking scene with his first beat tape Breakfast in 2009, and became more known to the public with 2010's Guilty Pleasure, which was distributed internationally by Fatbeats, Jazzy Sport and Pusher. Other notable releases include the 2012 single God Music and the 2015 album Managua.