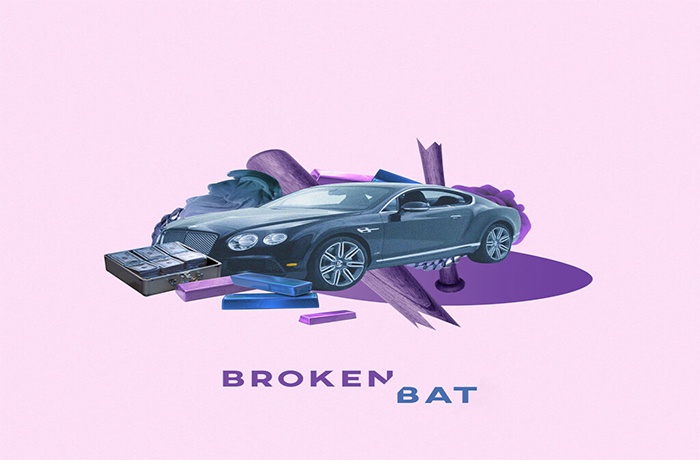 Sam Lachow is back with this new way out single titled 'Broken Bat'.
Sam Lachow steps up to the plate yet again with his latest euugh face-inducing single "Broken Bat." With incredibly infectious and creative production from frequent collaborator Jake Crocker, this one brings the slap and the thump and the crack. Seriously. It oozes a slick, artsy bravado and a smirky wit. It's a refreshing take on Sam Lachow's flow, you can audibly tell he's having fun. MistaDC and Vrillah on the hook. Milo Eubank and John Greenham on the mix and master.
It's a good time, I tell ya! Accompanied by an entertaining and fun video from Justin Frick and his A Frick Take team, Sam Lachow and the squad cartoonishly plot a museum heist while masquerading as the elderly. If you didn't know you've been lacking funny dance moves from folks in octogenarian costumes, well here you are and here you go. Check it out! Bless.
Sam Lachow is a producer, songwriter, rapper, videographer, director, and editor of video and music. Raised in both Seattle and New York City he's been making videos since elementary school, and as a seventh-grader began a group called Shankbone. Sam began directing and producing music videos with Shankbone, and went on to create videos for various other artists.
He's been a full-time solo artist since 2011 starting with the release of his debut project "Brand New Bike". In 2014, his second full length "Huckleberry" debuted at #6 on the iTunes hip-hop charts, and his 2016 EP "Friends, Funk, and Liquor" debuted at #2. He has went on to release multiple singles and well-loved EP's since, rocked stages and headlined successful tours, and continued to grow as a human and artist.
He is poised for an active 2020 with the release of his third full-length album set for late spring. Ready to embrace whatever the future holds, Sam is excited to continue his journey and to keep creating and building.