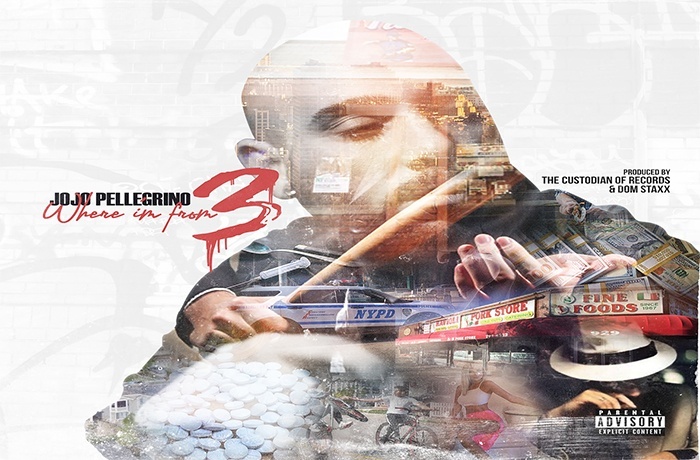 JoJo Pellegrino signs label deal with Sony/Orchard and releases "Where I'm From 3" produced by Custodian of the Records & Dom Staxx on his Pella-Vision imprint.
It was the very first rendition of the classic Jay-Z gem "Where I'm From" that catapulted a young Jojo Pellegrino into the rap game and played a key role in Pellegrino landing a high profile recording contract with VIOLATOR/LOUD/SONY records.
The late Chris Lighty along with Steve Rifkind immediately had the record buzzing all through the mixtape circuit and on the radio, winning contest after contest such as DJ Clue's "Battle of the streets" on Hot 97 where Pellegrino went up against three of the top artists in the game at the time song for song live on air as the fans called in placing their votes.
For three nights in a row callers voted Pellegrino as the champion and "Where I'm From" (done south shore style) was inducted directly into the HOT97 "Battle of the streets" hall of fame. Jay-Z himself told JoJo Pellegrino the record was "money in the bank" and was very impressed. Fast forward a few years Pellegrino release "Where I'm From 2" independently along with the Jon Colombo produced music video and once again the record was heavily favored in the hip-hop community.
JoJo doesn't miss a beat as he explains exactly what life is like in the prodomonately italian neighborhood he grew up in on Staten Island in his lyrics. Like any neighborhood in NYC things constantly change and you get a fully detailed inside look as as to just how in each version of "Where I'm From." If you enjoyed part one and two you are going to love part three! The "Where I'm From 3" music video directed by JoJo Pellegrino, shot by New Vegas films is on the way along with the full length lp from JoJo Pellegrino entitled "Paradise Slum"!