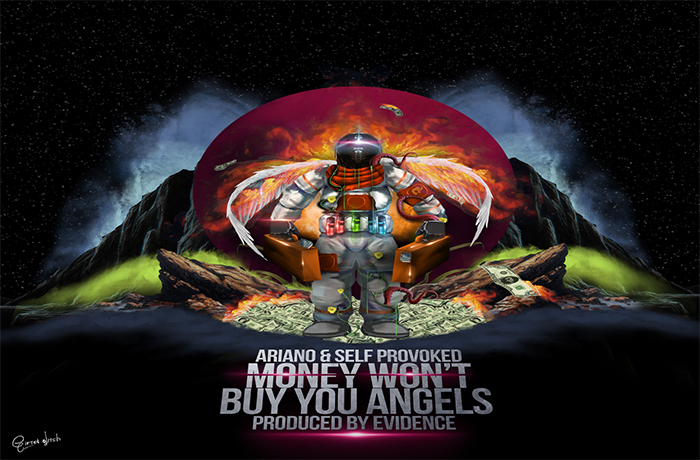 Ariano releases 'Money Won't Buy You Angels' produced by Evidence of Dilated Peoples and featuring Self Provoked.
Southern California hip-hop artist/producer Ariano presents "Money Won't Buy You Angels," which features a guest appearance from fellow SoCal emcee Self Provoked, and is produced by Evidence. The Dilated Peoples beatsmith is the lone outside producer on America The Anxious, Ariano's new album which he produced and recorded in one week during the COVID-19 pandemic.
Over his 20 years in the game Ariano has collaborated with Snoop Dogg (listen to "High Off The Fame"), Crooked I (listen to "Not Going Back"), Murs and KRS-One, and has several full-length releases under his belt including 2007's Music2breakup2, Sad Songs Make Me Happy and Love Is Not Lazy. Ariano has worked with Glasses Malone, members of Wu Tang Clan, The Visionaries, Ikey Owens of The Mars Volta and Jack White Band, KRS-One, DJ Khalil, Dudley Perkins, M.E.D., Evidence, Chali 2na and more. Ariano's last album was F–k You, I Love You, Pay Me (stream).
"I had two albums already complete and they didn't fit the time period that we're living in," Ariano says. "This album is completely freestyled and done very sporadically. I think it captures the anxiety of the times that we live in."
[jwplayer player="1″ mediaid="130353″]