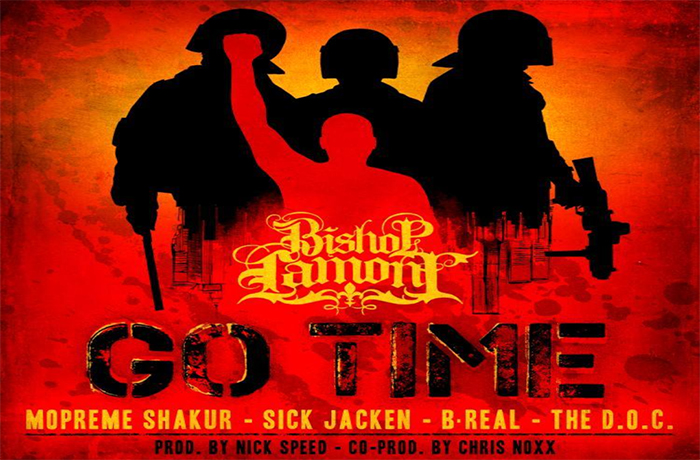 Bishop Lamont calls for action on 'Go Time' featuring Mopreme Shakur, Sick Jacken, B-Real and The D.O.C.
Bishop Lamont released 'Go Time' several years ago and re-released the single. The updated version produced by Nick Speed and co-produced by Chrix Noxx will be featured on Bishop Lamont's upcoming album, "Just Don't Die," set for release sometime this year.
Bishop Lamont had this to say about the single, "Many of you may remember this song from when I previously released it a few years back, but given sensitive nature of the subject matter (in which Sick Jacken and I released a video statement on YouTube explaining the song: (https://youtu.be/CYGBAGaLIso) we felt it necessary to revise it in a way where our overall message won't be taken out of context and hopefully the audience can really digest what we're all trying to explain within it. I know this song will spark many different dialogues and that is exactly what our gift of music (especially the genre of #HipHop) is supposed to do. I am honored to have had these #HipHopLegends bless me with their insight and incredibly strong presence on this record. It's been a long time coming for #BlackandBrown to come together like this on a joint to speak on behalf of our people and touch on the issues that are highlighted so vividly here."
Bishop Lamont calls for action on this new single as it seems things have really gotten out of control with police brutality against Black and Brown people in this country. "I could not wait any longer and felt that this track needs to be heard now." Be sure to look out for the video soon.