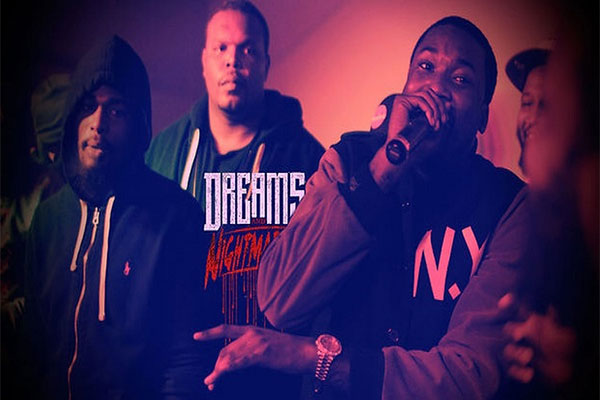 Tyler the Creator says that Meek Mill and TIDAL inflated streams and took advantage of Billboard's verification problems.
Tyler The Creator has called out Meek Mill and TIDAL for scamming the Billboard 200. He has accused TIDAL of offering free streams to push Meek Mill's latest album, Wins & Losses, to number 1. Once in the free tier, Tyler says the pair used bots and artificial streams to boost their numbers.
Tough accusations. But is there any substance to them?
This is certainly a tight race for number one. On Tuesday, Billboard reported that Meek Mill's Wins & Losses album is projected to sell between 90,000 and 95,000 equivalent units. Tyler The Creator's Flower Boy may move between 85,000 and 95,000 units.
Billboard estimates that Lana Del Rey's Lust For Life will sell between 85,000 to 90,000 units.
A day later, TIDAL suddenly made Wins & Losses available to stream for free. The streaming platform placed the album ahead of their paywall less than a week after it came out. Previously, only subscribers could listen to the album.
So is TIDAL just playing dirty tricks? Maybe the past is prologue.
4:44: Sprint, Samsung and TIDAL game the RIAA
On June 30th, Jay Z released his latest album, 4:44, exclusively on TIDAL. Less than a week later, the RIAA certified the album platinum.
Jay Z's streaming platform has roughly four million subscribers (or so they claim). So, how did the superstar manage to accomplish the impressive feat? Well, here's how this game worked:
(1) Sprint scooped up digital copies of 4:44 and offered the album as a free download on TIDAL.
(2) Then they offered the pre-purchased albums to their subscribers. By visiting 444.tidal.com, users who entered the promotional code SPRINT would receive a copy of the album.
(3) The RIAA recognizes one equivalent album unit as one album sale, 10 tracks sold from an album, or 1,500 on-demand audio or video streams. Sprint owns a huge part of TIDAL. So, basically, to receive a platinum certification, TIDAL bought stuff from TIDAL and earned an award.
Jay Z successfully employed a similar feat with Samsung. Thanks to purchased copies from electronics giant, Magna Carta Holy Grail and Rihanna's Anti album both went platinum in record time.
But unlike the RIAA, Billboard didn't quite take the bait
It's interesting to note that a week after 4:44's release, TIDAL remained silent on how many people actually streamed the album. So, Billboard didn't include the album on their charts.
Billboard maintained that TIDAL would have to report the numbers to Nielsen Music.
Jay Z subsequently released the album on Amazon and Apple Music. He noticeably snubbed Spotify, a move that has cost him $1 million a week. 4:44 didn't show up on the Billboard 200 until two weeks after the album's release.
Billboard clarifies their stance on free streams
A day after Jay Z's streaming platform made Wins & Losses available for free, Billboard released a suspicious official statement.
"Free streams — with "free" defined as streams a listener has accessed without having a paid subscription or as part of a trial period subscription — have counted towards the Billboard 200 since it changed to a consumption model in 2014. Billboard does not currently have in place any rule or rules dictating how an approved streaming chart contributor can present or promote content on their services."
They also added that their updated methodology was made in collaboration with record labels and distribution companies.
"By the methodology now in place, which was arrived at in partnership with our industry constituents (record labels, distribution companies, etc.), on-demand audio streams from approved contributors, whether in front or behind a pay-wall, or via a free, discounted or paid trial, all count equally, provided the streams are consumer-initiated "on demand.'"
On Twitter, Tyler The Creator immediately blasted the move. In a now-deleted tweet, he wrote,
"DAMN TIDAL GOT ALBUMS PLAYING BEFORE A PAYWALL WHICH MAKES ME THINK NIGGAS CAN HAVE BOTS SPIKING UP PLAYS FOR BILLBOARD ON FRIDAY HMM"
He admitted that he really wanted the top spot on the Billboard 200. He added,
"IM PETTY I WANT THAT TOP SPOT HAHAHA I WANT IT SO BAD MAN"
Billboard doesn't have a system in place to verify who's listening to streams. As Tyler The Creator states, TIDAL could very well have placed bots to stream the album for free.
Meek Mill could reach the top spot on Billboard. But, will anyone believe it?