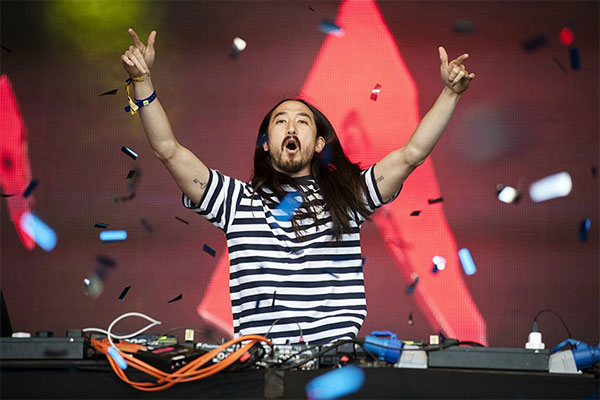 1. Calvin Harris ($48.5 million)
2. Tiësto ($39 million)
3. The Chainsmokers ($38 million)
4. Skrillex ($30 million)
5. Steve Aoki ($29.5 million)
6. Diplo ($28.5 million)
7. David Guetta ($25 million)
8. Marshmello ($21 million)
9. Martin Garrix ($19.5 million)
10. Zedd ($19 million)
Forbes' highest-earning DJ list featured a lot of familiar names, with Calvin Harris destroying the list for 2017.
Harris commanded an estimated $48.5 million over the past year, thanks to a range of huge revenue-earning gigs. Â That includes a seven-figure Vegas residency, high-paying festival slots, and pop-charting collaborations with the likes of Pharrell Williams and Katy Perry.
Not far behind was Tiësto, whose moneymaking prowess remains incredible over his multi-decade career.  Just like Harris, Tiësto banked on high-paying residencies and festivals, while remaining a major progressive house and trance trendsetter.
Unsurprisingly, the Chainsmokers entered at number 3, with a $38 million haul.
And the most unexpected cash earner?  That might be Marshmello, whose unmistakeable look helped to command a healthy $21 million over past year.  But maybe more surprising was Skrillex, who ranked 4th with a $30 million haul, according to Forbes' estimates.
Others remain year-to-year power-earners. Â Diplo dipped at number 6 with an estimated $28.5 million, while Steve Aoki bowed at 5 with $29.5 million. Â Others peppering the list are now household EDM names, like Zedd, Martin Garrix, and David Guetta.
Collectively, the broader top 10 highest paid DJs pulled in more than $300 million. Â Accordingly, that spells huge opportunity for other DJs, though the extreme millions are typically reserved for the top-ranked.
And how accurate is all of this?  Earlier, deadmau5 blasted Forbes' estimates when he made the list.  In blunt fashion, the DJ decried the magazine's estimates as fiction (while referencing his own bank account).  So perhaps it makes sense to take these numbers with a grain of salt.