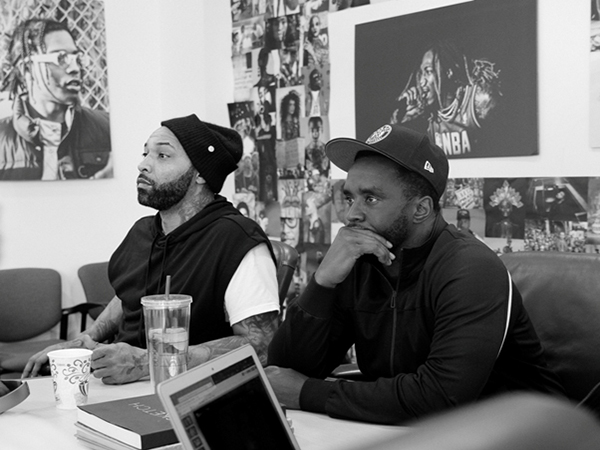 Sean "Diddy" Combs and Joe Budden make the Revolt TV Deal official.
Sean "Diddy" Combs announced today that Hip Hop's preeminent media pundit Joe Budden has inked a deal with his network, REVOLT MEDIA & TV. Budden, a veteran MC known as one of the most outspoken voices in hip hop, will create, executive produce, and host "State of the Culture," a brand-new talk show due to premiere this summer, where he'll lend his distinctive voice and unique perspective on current topics, politics, social issues, and more, all through the lens of hip hop. Compared to standard talk shows, "State of the Culture" will deliver raw, unfiltered, and informative debates and interviews where Budden digs deep with prominent celebrities, artists and personalities.
"Finally, Joe Budden is officially part of the REVOLT family," said REVOLT Chairman Sean "Diddy" Combs. "Joe has an authentic approach and he's never afraid to speak the truth. His many talents deserve a platform that pushes the culture forward and we are excited to produce next-level content with him."
"It was important to partner with a company that recognizes the growing need for our voices and ideas to stream freely without interruption. That was a much prettier way to say, we bout to be with the shits," said Joe Budden. "Thank you to my business partner Ian Schwartzman and REVOLT for the opportunity to highlight my brutal honesty, passion and integrity.  I love REVOLTING!! Together, we will continue to take this thing to heights unseen."
"We are excited to launch a new era of REVOLT content with Joe Budden," said REVOLT CEO Roma Khanna.  "This is just the beginning of more great things to come as REVOLT leads from the center of Hip Hop culture."
Joe Budden comes to REVOLT after hosting the network's 2017 year-end special entitled This Year Was Dope/Trash, with co-host Charlamagne tha God. During Diddy's recent New Year's Eve bash, the mogul and Budden teased their partnership in a video clip posted to REVOLT's Instagram page. "Are you ready to get money with me?," Diddy said. "Are you ready to put this Black excellence on a whole other platform?"
Budden currently hosts his own groundbreaking podcast The Joe Budden Podcast, alongside Rory & Mal. Prior to being an on-air personality, Budden was an esteemed rapper, both as a solo-artist and as a member of the super-group Slaughterhouse. Joe's most recent project, 2016's Rage & The Machine debuted at #1 on the iTunes & Billboard's Rap/Hip-Hop chart.
To learn more about "State of the Culture" visit REVOLT.tv.  To watch REVOLT check local listings here.