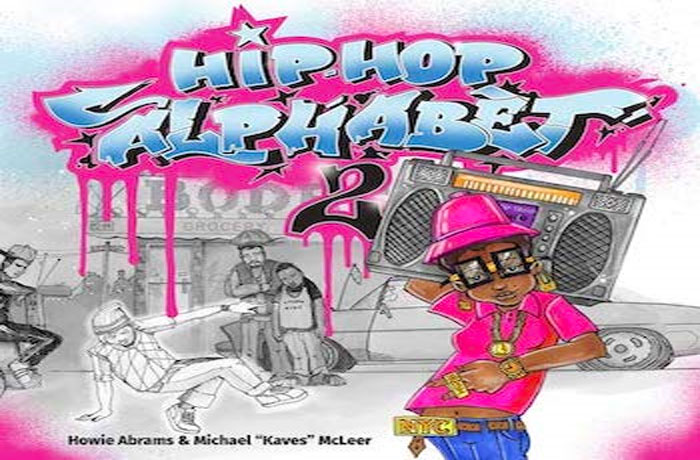 Just over a year since its initial limited, sold-out release, visionary children's book Hip-Hop Alphabet is not only getting a reprint, available April 23, 2019, but also a sequel. The second installment of the raved about book, which received cosigns by XXL, BET, Huffington Post,
Hypebeast, and was gifted to Cardi B at Kulture's baby shower, again features clever rhymes by Howie Abrams and graffiti-style drawings by legendary artist Kaves, using the twenty-six letters of the alphabet to educate kids about classic icons as well as essential elements of the music and culture.
Like the first book, a portion of the proceeds will be donated to the Jam Master Jay Foundation for Music, which operates under the simple premise that, regardless of socio-economic status, every child deserves equal access to the arts.
When asked about bringing the Hip Hop Alphabet to life for a second time, co-author Howie Abrams shared, "Kaves and I were almost caught off guard by the incredible reception to our first book. It sold out everywhere in less than twelve months, and we're excited to see that it's finally being reprinted". Adding, "So many parents reached out to let us know how the book helped them bond with their children through hip-hop, which was the reason we created it in the first place. And a number of the artists we featured got in touch to let us know how much they appreciated being in there. Then, of course, we loved hearing that Cardi B received a copy at her baby shower."
So what can readers expect from Hip Hop Alphabet 2, due out on May 14, 2019? Abrams explains, "We're really excited for people to see the new book. We highlighted some incredible artists, from our favorite OGs to some of the great modern rappers, and also made an effort to incorporate more of the ladies this time around. You'll see Salt N Pepa, Missy Elliot, Lauryn Hill… There's even a fly b-girl on the book's cover."
Proceeds from both books will be donated to the Jam Master Jay Foundation for Music which supports arts and music education in under-served schools and communities, continuing Jay's legacy of creativity and community support.
Purchase Hip Hop Alphabet (available April 23): https://www.amazon.com/Hip-Hop-Alphabet-Howie-Abrams/dp/1944713328
Pre-order Hip Hop Alphabet 2 (out May 14): https://www.amazon.com/Hip-Hop-Alphabet-2-Howie-Abrams/dp/1682618455