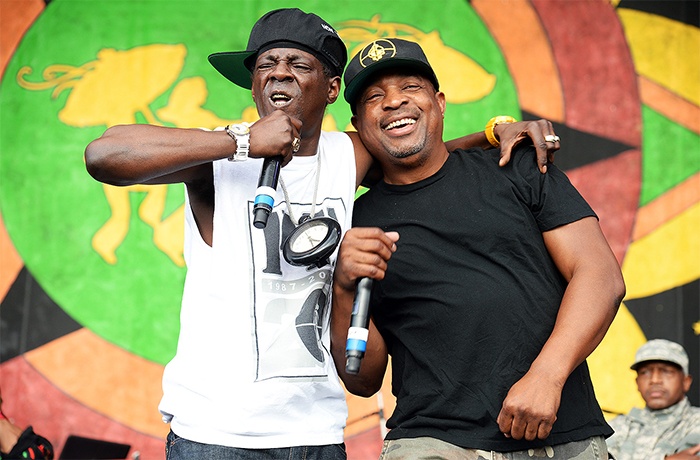 The rift between the two prominent remaining members of Public Enemy has to hurt those that grew up with the group being the voice of the people.
If you grew up in the 80s and were a Black kid in the inner city with pride for your people, Public Enemy was one of the groups that you followed. Their first album, 'Yo! Bum Rush the Show' was release in 1987. Then the following year they released 'It Takes a Nation of Millions to Hold Us Back'. The titled only gave fire to those who were fighting "the powers that be."
If we are honest with our selves, we know that Black people in America have had to fight for everything that they have managed to acquire to date. When Public Enemy hit the scene it that generation wind under their sails to push on. Public Enemy was the barometer for young people. The group managed to fight the system and say what many wanted but could or did not. Public Enemy was not the type to confirm to what the United States wanted Black people to be, as they fought "the powers that be."
That is why this situation between Flavor Flav is difficult for me to fathom. With all that Public Enemy stood for, it seems that a politician has torn them apart.
In late February Flavor Flav's attorney sent a cease and desist to Bernie Sanders asserting that Sanders' rally used Flav's "unauthorized likeness" and "image" to promote the event.
"While Chuck is certainly free to express his political view as he sees fit — his voice alone does not speak for Public Enemy. The planned performance will only be Chuck D of Public Enemy, it will not be a performance by Public Enemy. Those who truly know what Public Enemy stands for know what time it is, there is no Public Enemy without Flavor Flav," the letter states.
Chuck D decided to respond on Twitter to the legal letter, saying, "It's not about Bernie with Flav" and that Flav doesn't "know the difference between Barry Sanders or Bernie Sanders." This is a funny statement from Chuck D becuase as we know now, many Garth Brooks fans don't know the difference between the two.
… last final note the last final note was my last straw was long ago. It's not about BERNIE with Flav… he don't know the difference between BarrySanders or BernieSanders he don't know either. FLAV refused to support @Sankofa after @harrybelafonte inducted us. He don't do that pic.twitter.com/5Ky9dTnzmd

— Chuck D (@MrChuckD) March 1, 2020
It seems that Chuck D was over Flavor Flav and no longer wanted to deal with Flav and his antics. Chuck D also explained his reasons for supporting Sanders. He said his (Sanders) focus on healthcare and childcare were the main reasons why he's supporting the Democratic candidate. He posted on Twitter that the issues became priorities for him after his father passed away in 2016 and his granddaughter was born.
My Dad passing in 2016 and Granddaughter being born automatically put healthcare and childcare at the top of my brain. There ain't a candidate running that can answer to 3 Black struggling generations living in the same crib, same time. If y'all don't know THIS-it's a bad problem pic.twitter.com/k8nJbhP8sV

— Chuck D (@MrChuckD) March 1, 2020
As a founder of the group, Flavor Flav was taken aback as 35 years of brotherhood seemed to be thrown away because of a difference of political opinion. It appeared that exact thing had happened. The group was falling apart over politics. Flavor Flav responded to Chuck D once again on Twitter.
.@MrChuckD are you kidding me right now???,,,over Bernie Sanders??? You wanna destroy something we've built over 35 years OVER POLITICS???,,,all because I don't wanna endorse a candidate,,,I'm very disappointed in you and your decisions right now Chuck,,,

— FLAVOR FLAV (@FlavorFlav) March 2, 2020
Chuck D and other members of Public Enemy responded to the claims that Flav was removed from the group because of "politics."
"Public Enemy did not part ways with Flavor Flav over his political views.
Flavor Flav has been on suspension since 2016 when he was MIA from the Harry Belafonte benefit in Atlanta, Georgia. That was the last straw for the group. He had previously missed numerous live gigs from Glastonbury to Canada, album recording sessions and photo shoots. He always chose to party over work.

Public Enemy Radio toured Europe and co-headlined with the Wu-Tang Clan in May 2019 without Flavor. They have also done numerous benefit shows without Flavor.

While Public Enemy Radio was moving forward, Flavor Flav was starring on the reality show "Growing up Hip-Hop New York," where an episode featured his children discussing an intervention and putting him into rehab.

It's time to move on and everyone wishes Flavor well."
I really hope the two can work through and bring the group back together. While they are working out, they should call Professor Griff and bring him back into the fold. This may be a stretch but I still believe in Public Enemy.