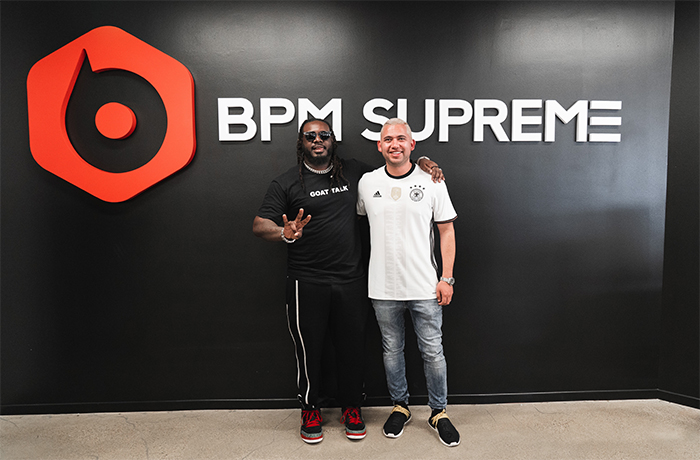 Multi-platinum superstar T-Pain has teamed up with leading music delivery service for professional DJs, BPM Supreme, and the company's new online sample library, BPM Create, to introduce the "Wake Up Dead" Remix Contest. On a search to find three brand new remixes of T-Pain's latest hit single "Wake Up Dead" featuring Chris Brown, contestants will compete for a chance to have their remix officially released on T-Pain's digital music channels, as well as on T-Pain's record label, Nappy Boy Entertainment.
"I'm pretty damn excited to bring this remix contest to all of my fans with help from my family at BPM Supreme and their new online sample library, BPM Create," said T-Pain. "We're looking for the freshest new DJs, producers, and remixers to bring us mega dope remixes. Let's see what you got!"
As the latest release from T-Pain, "Wake Up Dead" featuring Chris Brown has garnered more than 10 million collective streams across all DSP's and has been called "an intoxicating ode to spirited lovers who savor every inch of romance" by Billboard.
"Since the start of quarantine, T-Pain has yet to fumble under the duress of staying indoors," said Billboard. "Despite not being able to record in the studio together for this go-round, Pain and Brown's chemistry remains unmatched."
The "Wake Up Dead" Remix Contest will accept submissions from today, July 8, 2020 through August 16, 2020. Contestants can use any production software and hardware they choose, and there are no limitations to genre or style of remix. Remix submission must be uploaded to SoundCloud and submitted using a SoundCloud link.
T-Pain will announce the three winners during a free livestream event on BPM Supreme's platform (BPM TV) on August 22, 2020 at 4:00pm PDT. The livestream event will go hand in hand with the official launch of BPM Create, and all contestants will receive 25 free credits to use on the platform just for entering the contest.
"We are thrilled to introduce a way for our DJ and producer community to show off their skills and have their work heard by a legacy artist such as T-Pain. BPM Supreme was created upon the basic principle of musical freedom and creativity, and this is another way of continually creating opportunities for our close-knit community," said CEO and founder of BPM Supreme, Angel "AROCK" Castillo.
In addition to an official release by T-Pain, three winners will also receive prizes from Sponsors such as Roland, Artiphon, and Audionamix. A full list of prizes follows:

Official release on Nappy Boy Entertainment record label
Soundcloud Pro Unlimited 1-Year Membership
Royalty share of remix revenue distributed to each winner
Roland MC-101 GROOVEBOX ($500 Value)
Roland Cloud Pro 1-Year Membership ($100 Value)
Artiphon Orba MIDI Controller ($100 Value)
Audionamix XTRAX STEMS 1-Year Membership ($60 Value)
BPM Supreme Premium 1-Year Membership ($360 Value)
BPM Create Premium 1-Year Membership ($120 Value)
To learn more about the T-Pain, BPM Supreme, and BPM Create "Wake Up Dead" Remix Contest, visit bpmsupreme.com/create/wakeupdeadremix.