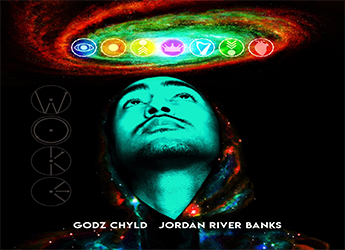 Godz Chyld and Jordan River Banks release the 'Heavens Pt II (Look Around)' visual.
Bronx, New York emcee G.C. a.k.a. Godz Chyld presents the music video for "Heavens Pt. 2 (Look Around)", the lead single from Woke, his new EP produced by longtime collaborator Jordan River Banks (watch the video for "Blue Flame" featuring Killah Priest and Loaded Lux). GC describes the new single as "a sequel to a song me and Jordan had on our first project 'Forever'.
On that song I was saying I'm gonna take you to the heavens – on this one I'm taking you there. I'm expressing that I feel Heaven is a state of being and a state of mind, and the imagery of my lyrics is what's gonna take you there if you can follow me." GC and Banks have two other collaborative projects between them: Rebornand Forever, and GC released the Things Ain't What They Seem EP in 2017 (stream). "Woke is where I feel we all need to be right now," GC says of the new project.
"A lot of people are going around saying they're woke and I think it's become more of a trend than a real thing. So I just wanted to bring something real back to hip hop and give people something to feel, and also my perspective on some of the issues going on right now."
[jwplayer player="1″ mediaid="117953″]