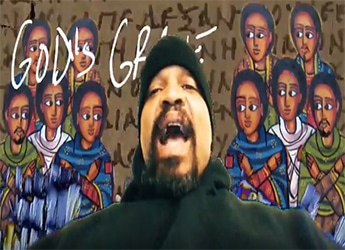 Mic Crenshaw returns with his new 'OMG' video.
Chicago-born, Portland-bred poet and emcee Mic Crenshaw presents the Nat Needham-directed music video for "OMG", his Jonny Cool-produced new single featuring vocals from Arietta Ward and cuts from DJ Klavical. "OMG" appears on Crenshaw's new album Earthbound, which also features guest appearances from Psl, Jah Robinsun and Jana Crenshaw, and spawned a visual for the title track.
Mic co-founded GlobalFam, a non-profit project to create and maintain a computer center for disadvantaged youth in Burundi. Over 400 people have received free training. Mic also partnered with Education WithOut Borders (EWOB), which supports education, music and art initiatives in Portland and beyond and serves as an umbrella for the local Books For Prisoners chapter and GlobalFam itself. Mic has opened up for Public Enemy, Immortal Technique, KRS-1, Mos Def and The Roots. Mic's previous projects include "Obvious" and "Superheroes" and he's prepping a forthcoming EP.
Regarding the new single, Crenshaw says "it wrote itself. Beyond that, I identify the persecution and suffering of the oppressed as a spiritual journey for redemption set into motion by forces that predate our existence. As a Black Man or Woman or a suffering person, the process of overcoming is holy."
[jwplayer player="1″ mediaid="117896″]