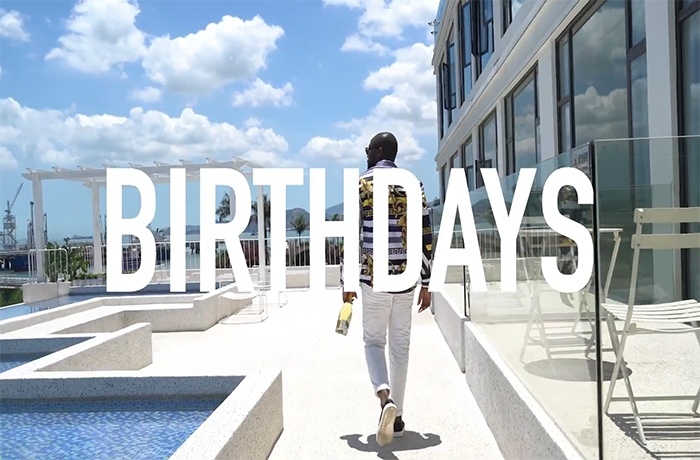 Champagne Duane is back with his new 'Birthdays' video.
With their birthdays exactly a month apart, Champagne Duane releases the stimulating Biggie tribute video for the catchy single "Birthdays" on 5/21 at 5:21am. Much like the track, the video is upbeat and full of iconic 90s Bad Boy references, from 'Sky is the Limit' to 'Mo Money Mo Problems.' Versace outfits, flashy sweatsuits, and the coveted Coogi sweater make this official music video is an instant classic and suitable birthday message for the King of New York. Channeling his inner Diddy, Duane gets active from the opening scene, dancing around a pool to the lavish seaside backdrop of Xiamen, China.
"Birthdays" is a hit. Sampling the hip hop classic "Juicy," Champagne Duane gives praise to Biggie while celebrating his own born day over the funky instrumental provided by TOPE. Originally, Duane and TOPE connected while living in Portland and again a few years later when both of them coincidentally relocated to Oakland, California.
After finding out they were neighbors, Duane came to TOPE with the idea for "Birthdays" and the two built the song from scratch in-studio, with Duane deciding what sample feel and tempo he wanted to go with. Featuring some additional vocals from TOPE, Champagne Duane flows with ease over "Birthdays" displaying an air of confidence and swag that shines through on the track.
[jwplayer player="1″ mediaid="130056″]