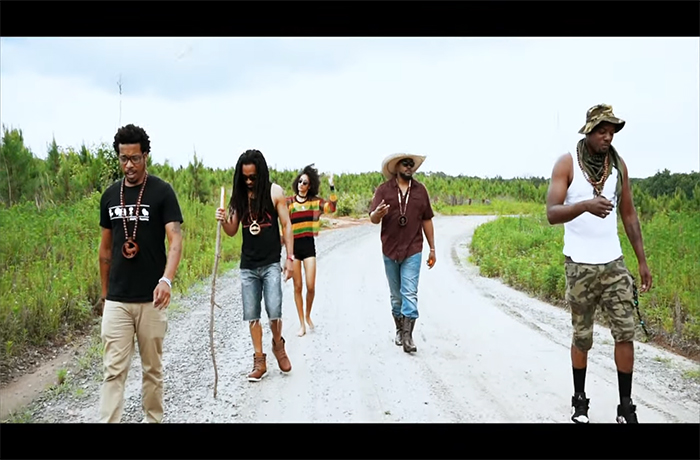 Nappy Roots takes us down those country "Back Roads" in new video.
Though it's been a while since you've heard from the iconic Southern rap quartet, Nappy Roots, they announced their return with, "Blind Faith," a vital single which highlighted the meaning and significance of the Black Lives Matter movement; a soulful southern perspective about perseverance during these trying and uncertain times we are all witnessing.
Fresh of off producing Big Boi & Sleepy Brown's new hit "Can't Sleep", 808Blake is executive producing Nappy Root's forthcoming 40RTY album, so buckle up, because Nappy is back with a new single and video, "Back Roads," and you just never know where those country roads will take you.  The new "Back Roads" video was exclusively premiered by HipHop-N-More.
"Back Roads" is Nappy Roots paying tribute to the many country roads that we use for therapy to escape the busyness of the city.  Since Nappy began, taking road trips was one of the key ways we built chemistry for our music. "Back Roads" simply reminds us of simpler times" the group commented to HipHop-N-More.
While Nappy is gearing up to release their first new album in years, 40RTY, after more than 20 years in the public eye, the two-time GRAMMY-nominated band has expanded beyond music into projects that include craft beer and television production with "40Akerz & a Brew."
The band began experimenting with their home brewery, Atlantucky, which fermented their passion for microbrewing. In 2017, the group introduced their first two craft beers with Atlanta-based Monday Night Brewing.
The limited-edition brews are so successful that the group was inspired to expand on opportunities with other breweries across the county. Nappy Roots has produced more than a dozen craft beers to date. The group plans to open a brewhouse with their own taprooms in Atlanta later this year.
The studio's first project is a reality TV series, "40 Akerz and a Brew." The series will follow the group on their tour around the country and discuss the art of craft beer with area brewmasters and have 'conversations over beers' with the breweries' regular customers.
[jwplayer player="1″ mediaid="131140″]