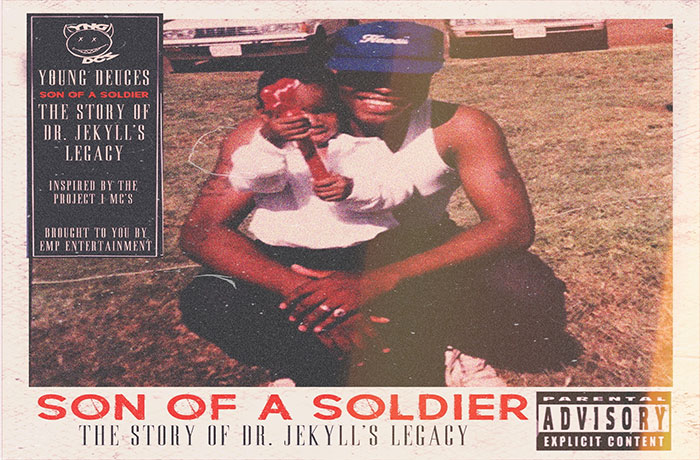 Milwaukee rap artist, Young Deuces is gearing up to release his second solo album on December 26, 2019. He is half of the group SNYD. The duo does a great job of representing their and Hip-Hop to the fullest. Now, Young Deuces continues his part of the mission by releasing the upcoming project, 'Son of a Soldier: The Story of Dr. Jekyll's Legacy'. With this album Young Deuces pays tribute to his father who also shared the love of rhyme writing.
Deuces found his father's rap book, Young Deuces created a project executing his style of hip-hop while making his father proud.
With his latest album, he is closing out 2019 with a powerful exclamation point — a follow-up to his debut, self-titled project.
The more things change, the more they stay the same. Since his debut solo album, Young Deuces has not changed his thought to uplift Black people. He sounds like an elder statesmen dropping an overabundance of gems worth multiple spins.
Sitting at seven songs, Young Deuces has an incredible amount of depth, crisscrossing themes of Black excellence, Black love and the uplifting of Black people.
"Son of a soldier still stand on the front line, don't try to play me I'm still Kobe in crunch time – you see the people they waving they true colors now, with Tiki torches and MAGA hats just to cut us down" he raps on "Do The Project One." Over the hard-core boom bap track produced by K. Mel Beatz, he laments over the lack of love Black people have for each other, while illustrating this driving light that seemed to guide him towards his bigger vision.
On this project, the balance comes in the form of its anchor, "The Dream." This details the inspiration Dr. Martin Luther King was to this nation.
"Martin was an inspiration did everything that he could think of just to save a nation but there was evil in the world just n*ggas out here hatin' – cause they ain't never understand what type of bout they facing, see I'm just tryin' to push the message he was out here preaching, as a youngin' it was my pops that put me on his teaching, history repeat itself and now it's looking grim, should be united but the chances of the looking slim – it's us versus them and I don't see a perfect ending."
'Son of a Soldier: The Story of Dr. Jekyll's Legacy' is a strong follow-up to 'My Unapologetic Black Thoughts' with one dedicated to where his dad once lived with "Six Street."