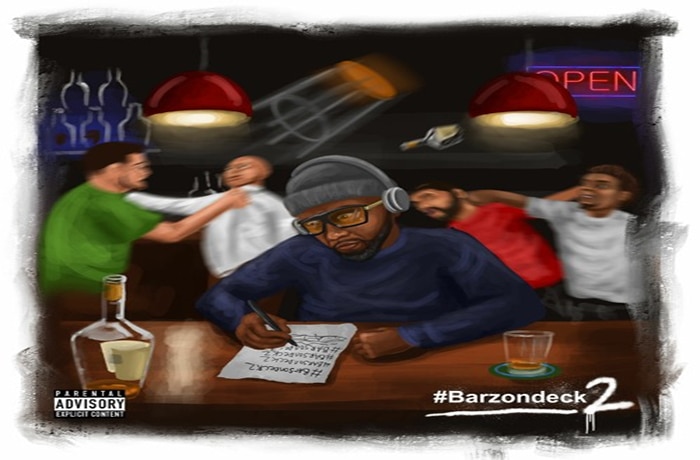 You'll never find Ill Gordon doing what everyone else is doing. The Chicago rapper hit new levels of excellence on BarzOnDeck. Ill Gordon is known for his hard-hitting rhymes and has one the best voices in Hip-Hop. How are Hip-Hop artists defined? What makes a good artist? This is something that can generate a myriad of responses. The truth is that a good artist is one who gives us something of meaning.
On the sequel to the 2017 release, Ill Gordon recaptures the same energy, serving up those fast paced rhymes from the very beginning. The hard-hitting drums and horns call on the spirits of the warriors. Ill Gordon is one-of-one and on the intro track stays as perfect a fit for Gordon as his high-energy provides a peak into the album's pace.
This is business as usual for Ill Gordon. Whenever you look for BarzOnDeck 2 to fade it keeps raging with speed of an 100 mile per hour fastball. Gordon tells us to stay focus on 'Get Wit It' he is cooking rhymes without a recipe. Ill Gordon seems to take us to church with the heavy piano track, "High Horse."
On "Villain" Gordon brings the heat like Erik Spoelstra. "Grace Of God might be the brightest track on the album. Gordon says it is by God's grace that he doesn't kill rapper with coke lines he spits. If there is one thing you need to enter Ill Gordon's world, it's a mind open enough to reject the norm in Hip-Hop today and the grace of God.
Gordon, who closes out the project on the back end not being modest but by giving a warning on "No Smoke." He can swing from wry one-liners to telling guys they don't want fire from him. "Work" suggests how much Gordon gives to his craft; in a delivery that sounds more door-to-door salesman than rapper, Gordon envisions his own death: "Getting paid time and a half, you can that tell I spend time on my craft, I should be locked in a lab" he asserts before describing the way he puts work in.
On "Outro" Ill Gordon lets it be known that he does not write raps to become known better, he writes them for his own pleasure. "I was told not to rap about how good I am, 'cause they don't really want to hear it, you could lose some fans, understand I don't five a f*ck about opinion, more concerned with if the bars match in every sentence" raps Gordon. Not allowing the opinions of others get in the way of the of his creative process, Gordon focuses on the task at hand. Which is writing rhymes that people remember. Returning to his BarzOnDeck franchise and overtaking the original just asserts that he always gives you something, even if it's never what mainstream is looking for.
Get the album today. https://illgordon.bandcamp.com/album/barzondeck2